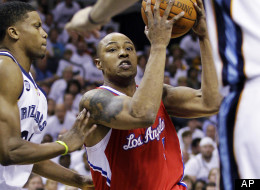 MEMPHIS, Tenn. — Clippers forward Caron Butler has broken his left hand in Game 1 of Los Angeles' opening series against the Memphis Grizzlies.
Butler had 12 points and two rebounds Sunday night in 23 minutes. After a defensive play in the second half, Butler went to the locker room for an X-ray that found the break.
The veteran forward is one of the few Clippers with playoff experience, though he was injured last year when he was with the NBA champion Dallas Mavericks. A starter, Butler averaged 12 points for the Clippers this season.