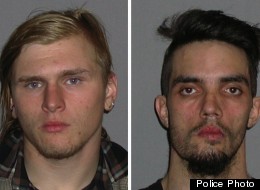 Two of the five suspects accused in an alleged plot to blow up a bridge near Cleveland as part of a May Day protest reportedly also had their eye on raising a ruckus at the upcoming NATO summit in Chicago.
Douglas L. Wright, 26, and Brandon L. Baxter, 20, had spoken on two separate occasions about targeting the international event, NBC Chicago reports. A source reportedly told the FBI about their conversations with Wright and Baxter on the subject. The men reportedly self-identify as anarchists.
According to the criminal complaint, Wright told the confidential source that they would need protective gear -- such as helmets and body armor -- for what they allegedly had in store for Chicago during the summit. Wright allegedly told the source that the Chicago summit would be "crazier" than their Cleveland bomb plot, according to NBC.
The two had bought inert improvised explosive devices and smoke grenades and planned to head to Chicago after they left Cleveland in a "pile of rubble and ashes," CBS Chicago reports. Wright allegedly predicted that a "s--t load" of people would be heading to Chicago to demonstrate against the summit.
As Chicago prepares to host President Obama and other world leaders at the NATO summit, to be held May 20-21 largely at the McCormick Place convention center, federal law enforcement agents are expected to arrive this week downtown to secure federal buildings as part of the so-called "Operation Red Zone." Adbusters, a magazine instrumental to the early days of the Occupy movement, last Friday renewed their call for protesters to "swarm" the Chicago summit as part of the "May 2012 insurrection."
The complaint did not detail any specific attacks the suspects allegedly planned to carry out in Chicago, according to ABC Chicago. Authorities say the men never posed any danger to the public because the explosives they possessed were inoperable. The investigation is ongoing and all of the suspects are expected to appear in federal court later Tuesday.