Immortal Technique At Occupy May Day In Union Square (VIDEO)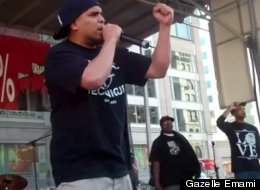 Immortal Technique performed at the Occupy May Day rally at Union Square in New York Tuesday, in arguably the most impassioned performance of the afternoon's lineup, which included Tom Morello, Dan Deacon and Das Racist. He performed "Leaving the Past" and "Toast to the Dead," the former of which was particularly critical in the OWS context.
"I've never seen so much racism in all of my life, every program and newscast, all of them white," he rapped. "It's like apartheid with 10 percent ruling the rest."
Watch Immortal Technique perform "Leaving the Past:
Watch Immortal Technique perform "Toast to the Dead":
See photos of Dan Deacon, Tom Morello and Das Racist at Union Square:
All photos and video by Gazelle Emami