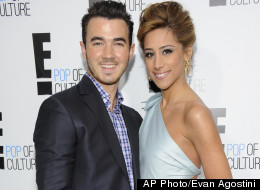 Should we be worried for Kevin Jonas' marriage?
On Monday, Entertainment Weekly reported that the oldest Jonas brother and his wife, Danielle, will star in the upcoming E! reality series, "Married to Jonas." The show, which premieres Aug. 19, will follow the couple -- who've been married since 2009 -- as they balance their "suburban domestic life" with Kevin's career and considerable fame.
Still, as YourTango writer Carolyn Gregoire wondered, is it really possible to have a normal marriage when cameras crews follow your every move? As we've seen before, opening your home -- and marriage -- to TV audiences is all too often followed by divorce once the cameras stop rolling.
Here, 8 celebrity couples whose marriages couldn't withstand reality TV. Click through the slideshow and weigh in: Is the reality TV divorce curse real?
Is The Reality TV Divorce Curse Real?
Jon and Kate Gosselin charmed audiences on TLC's "Jon and Kate Plus 8," which chronicled their lives as parents of sextuplets and twins. Familial bliss ended in June 2009, when Kate filed for divorce amid speculation that Jon had cheated on her. A bitter custody battle ensued, culminating in Jon's accusation that Kate neglected their children to film "Dancing With The Stars" (which she denied). The former spouses seem to have buried the hatchet, as Kate told People magazine in June 2011 that her relationship with Jon has "naturally gotten more peaceful."

Jessica Simpson and Nick Lachey wed in October 2002, shortly before they began filming their MTV series, "Newlyweds: Nick and Jessica," which ran for three seasons. The show's popularity rocketed the former teeny-boppers to A-list status, though their marriage could not withstand the constant publicity. They split in November 2005 after three years of marriage--seven months after their show wrapped in March 2005. Simpson and Lachey went on to find love with other people; Lachey to Vanessa Minnillo and Simpson to NFL player Eric Johnson.

Hulk and Linda Hogan bared their eccentricities --and their lives--on VH1's "Hogan Knows Best." The show was cancelled in October 2007, one month before Linda filed for divorce from her husband of 24 years amid cheating allegations. After two years of feuding, their split was finalized in July 2009.

MTV's "Till Death Do Us Part" followed the lives of Carmen Electra and Dave Navarro up until their wedding in November 2003. After seven episodes and less than three years, the couple separated in July 2006 and formally split in February 2007. Their marriage's demise marked Electra's second divorce and Navarro's third.

Travis Barker and Shanna Moakler married in October 2004, six months before their MTV show "Meet The Barkers" aired. The show--which lasted two seasons--followed the everyday life of the newlyweds and their three children (one from Moakler's previous relationship with Oscar de la Hoya). Barker filed for divorce in August 2006, accusing Moakler of partying to hard, neglecting their kids, and cheating on him--which she denied. The pair had an on-again, off-again romance until they reconciled following Barker's September 2008 plane crash. They reportedly split again in April 2009. Today, their relationship status remains ambiguous.

VH1's "My Fair Brady" followed the lives of Christopher Knight (who played Peter Brady on "The Brady Bunch") and "America's Next Top Model" winner Adrianne Curry throughout their courtship and marriage. The series debuted in September 2005 and lasted three seasons until the March 2008 finale, in which Knight and Curry embarked on a second honeymoon and decided to have children. The plan never came to fruition, as the pair split in May 2011 on the fifth anniversary of their wedding.

Unlike other reality shows, UPN's "Britney & Kevin: Chaotic"--which chronicled Britney Spears and Kevin Federline's initial meeting, courtship, and wedding--was comprised primarily of home video footage and interviews with the former couple. The hour-long finale covered their secret nuptials in September 2004. Two years later, Spears filed for divorce, citing "irreconcilable differences."

Kim Kardashian and Kris Humphries' eight-month courtship, which was chronicled on "Keeping Up with the Kardashians," lasted longer than their 72-day marriage. The reality star filed for divorce from the basketball player in October 2011, just 72 days after their Aug. 20 wedding, which was broadcast in a 2-day, 4-hour special on E!. The couple's marital troubles played out all season on "Kourtney and Kim Take New York," which was filmed prior to the split.