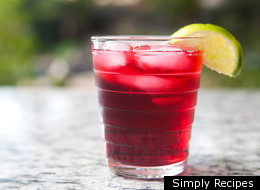 With Cinco de Mayo right around the corner, what better time than now to learn about the world of Mexican beverages? Most people stop their exploration with Margaritas, while others are slightly more adventurous and make it to Micheladas or palomas; and if you've lived in a city with a substantial Mexican community, you've most likely tried some version of aguas frescas (non-alcoholic drinks) -- horchata, tamarindo and Jamaica being some of the more popular flavors.
But that's just the beginning of refreshing beverages to be had thanks to Mexico; there are still many more to explore. From milky, sweet horchatas -- a rice-based agua fresca -- to creamy masa-based drinks like atoles or champurrados, the realm of Mexican beverages is varied and unique. While you can make most of these drinks in your own kitchen, some are not quite as accessible (though they just might be worth a trip to Mexico). Click through the slideshow below to learn about the refreshments enjoyed south of the border.
Margaritas are one of the first things people think of when identifying Mexican beverages, and there's no shame in that. When made fresh, they make one refreshing cocktail. Get the Combier Margarita recipe

Aguas frescas (literally translated to fresh waters) can be found all along the roadside in most parts of Mexico; and they come in various fruit flavors, too. This watermelon version is sure to quench your thirst on a hot day. Get the Watermelon Agua Fresca recipe

A paloma (the spanish word for dove) is a popular Mexican cocktail that's made with tequila and grapefruit soda. In Mexico they use Squirt or Jarritos, but if you can't find those you can substitute for grapefruit juice and sparkling water. Get the Paloma recipe from liquor.com

Atole is a hot masa-based beverage that's either served served plain, sweetened with cinnamon and vanilla, or in various fruit flavors. It's popular during the holiday season, but is also commonly served at the breakfast table year round. Get the Atole recipe from Food52

Don't let the name fool you, a sangrita has nothing to do with sangria. It's a fruit-juice concoction that's sometimes served alongside a shot of tequila. There are many variations to the sangrita, but they're often times a mixture of orange juice, grenadine (or tomato juice) and chile powder. Get the Sangrita recipe from liquor.com

Tejuino is a drink popular in the Mexican state of Jalisco. It's made from fermented corn and is traditionally served with a pinch of salt and a scoop of shaved ice or lime sorbet. Get the Tejuino recipe from Ensenada

If you feel like a beer, but are looking for something a little more exciting, a Michelada is a great way to go. It's a mixture of beer, tomato juice, lime juice and various spices or peppers (such as tabasco, black pepper or chile powder). Get the Michelada recipe from Food52

Horchata (an agua fresca) is a creamy, sweet Mexican drink made from rice; it's sometimes flavored with vanilla and cinnamon. Horchata is simple to make at home -- all you need is white rice, water and a blender. Get the Horchata recipe

Agua de Jamaica is a popular agua fresca and can be found in many Mexican restaurants. It's made with dried, red hibiscus flower and often times served with a slice of lime. Get the Agua de Jamaica recipe from Simply Recipes

Champurrado is a chocolate-based version of atole. It's often times served with churros for breakfast or a snack, and is also a festive drink during Christmas and the Day of the Dead. Get the Champurrado recipe from Food52

You can expect to find a little heat in many Mexican dishes, and the same is true of its hot chocolate. Mexican hot chocolate is made with chocolate, milk and the unexpected addition of hot chiles. Get the Mexican Hot Chocolate recipe from Food52

There are a great number of drinks that you can find everywhere in Mexico but are not as popular in the U.S. There are not many recipes out there, but they are definitely worth giving a try Tascalate - Popular in the Mexican state of Chiapas. It's made with chocolate, ground pine nuts, achiote, vanilla and sugar. Pozol - a drink made with fermented corn dough, and sometimes cocoa. Tepache - a sweet drink made from fermented pineapple. Rompope - A Mexican version of egg nog, served often around the holidays.

Chef Marcela Valladolid shows you how to make Winter Margarita Citrus and Margarita Paloma.