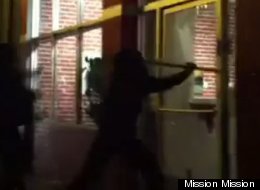 A small group of protesters wreaked sizable damage in San Francisco's Mission District on Monday night, as participants smashed windows, spray painted cars and vandalized several popular restaurants and a police station after an Occupy rally in Dolores Park.
The San Francisco Chronicle reported that the group marched from Dolores Park around 9 p.m. following an Occupy rally preceding Tuesday's May Day general strike and day of action.
(SCROLL DOWN FOR LIVE UPDATES)
On a phone call with The Huffington Post, Occupy San Francisco denied any involvement with the vandalism.
"This was not Occupy," said Magick, a spokesperson for Occupy SF to HuffPost. "For the past few months we've been working hard to build support for peaceful, creative May Day events, and then this happens in one of our very dearest neighborhoods: the Mission. We don't know who did this and it's heartbreaking that this group would undermine our efforts."
Magick said that members of Occupy SF spent Tuesday morning sweeping up glass and talking with affected business owners. "These are the very people we are trying to protect," she said. On Tuesday morning, Occupy launched its May Day events, as planned. (Click here for a schedule of the events.)
Reportedly, at least 30 businesses were affected by the vandalism including Tartine Bakery, Locanda, Four Barrel Coffee, Farina, Brick & Mortar and ArtZone 461 Gallery. Dozens of cars were also vandalized.
On Tuesday morning, Locanda posted a note on the restaurant's website:
"Thanks for all the support. Tonight's service was about as crazy as it gets, we're just thankful that all of the guests and staff are safe."
Two eyewitness readers wrote local blog Mission Mission describing the scene outside of Farina:
Readers Christina and Steve were there. Christina first: "I was trapped in the middle of the riot while they threw paint on me and hit my friend with a chair from Farina's outside seating area. They smashed a window of a car and threw a flame inside trying to light it on fire." And now Steve: "They threw tables around and broke some glass in front of Farina, then smashed an SUV window by the end of the block. Escalated pretty quickly and was moving at a very quick, intentional pace from the start."
Although Occupy has denied involvement with the vandalism, business owners expressed frustration with the organization.
"Occupy is saying it's not them, but we wouldn't be here if it wasn't for Occupy, now would we?" said real estate broker Michelle Horneff-Cohen to the Chronicle. Horneff-Cohen's business Property Management Systems suffered broken windows in the attack. "I think it's bullshit," she continued. "We are the 99 percent and this is bullshit."
Mission Mission acquired a video taken at the Monday night incident that displays both the vandalism and what appears to be contention in the ranks. Watch Mission Mission's video in the clip below. (Vandalism appears to begin at the 48 second mark.)
As thousands of people streamed down Broadway into Lower Manhattan, they faced a choice: go home to their apartments or stick around to see what happened next. Many -- including almost all the union members and immigrant rights' activists, it seemed -- chose the former. The younger demonstrators who remained, many of them clad in black, headed to the Vietnam Veterans Memorial Plaza.
By 9 p.m., perhaps a thousand protesters were gathered in the small park. "This park officially closes at 10 p.m. Some of us will stay here indefinitely," one speaker announced over the human microphone. The goal was nothing short of re-occupation.
As the hour wore on, people sat and chatted and something of a General Assembly occurred. (Occupy Wall Street hasn't had one of those gatherings since March.) Shortly after 10 p.m., a police officer on a bullhorn announced that anyone who stayed would be arrested. Most of those assembled complied with police orders. A few -- reportedly from Veterans for Peace and Occupy Faith -- stayed on, willing to be arrested.
Hundreds streamed into the night, some getting on subway trains and others engaging in a cat-and-mouse game with the police through the Financial District's narrow streets. The Huffington Post witnessed several arrestees loaded into a police van at Hanover Square, including one of a man wearing an Oakland Athletic's baseball cap.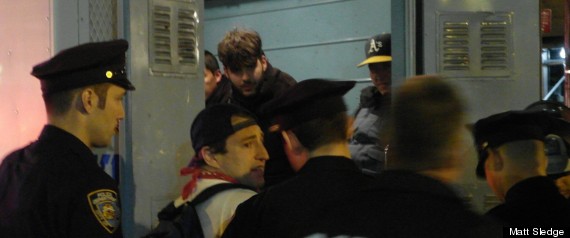 By the end, a few hundred protesters gathered in Zuccotti Park to wind down a successful day's gathering and relive old times. In the city host to the A's, meanwhile, the night was only getting started.
-- Matt Sledge