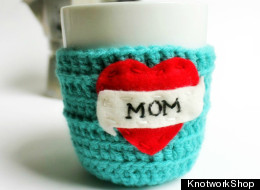 Mother's Day is May 13th -- so if you're reading this now, there's still time to get something great. Really, even though most mothers say they just want relaxation, a thoughtful present never hurt anyone.
Your gift should, of course, depend on the type of mom you're buying for. But once you know whether she's into food or fashion, in need of relaxation or a pretty bouquet, where do you go? Behold, the HuffPost Parents Mother's Day Gift Guide. From now until the big day, we'll be offering a smattering of excellent options, curated by our friends at Etsy, to suit mothers with varying interests.
Up first: hipster moms. The items below will appeal to ladies who loved the nineties, live in Brooklyn or Portland, Ore., and wear fake wide-rimmed glasses. Not that we're stereotyping. Just because Mom doesn't wear tight jeans and brew her own beer doesn't mean she won't love a herringbone Macbook sleeve or an awesome knitted coffee cozy. (Note: Birds not included)
13" Macbook sleeve: Original hand printed herringbone design on charcoal wool felt | $80 | ambette.etsy.com Leave homely laptop sleeves and professional briefcases to more boring folks -- and let your Macbook leave the house in style. Seller Liz says she sees her herringbone laptop sleeve as "minimal in design, yet bright and interesting enough to be a conversation piece." "I thought it was appropriate to take the quite conservative and business-like herringbone pattern, and give it a bold and more modern geometric update," she adds. Hand-made and individually silk-screened, it's also "biodegradable," and, unlike your favorite argyle sweater, it "doesn't pill."

Knotted Rope Necklace "Lene" in curry | $70 | ChristinaPauls.etsy.com Hand-dyed and hand-knotted, these necklaces (which also come in petrol blue, olive green, salmon pink and other hues) were inspired by "the macramee hanging planters" created by seller Christina Pauls's mother. Soft instead of sparkly -- but lovely nonetheless -- they certainly stand out from the crush of more conventional jewelry available around Mother's Day. "Often the husbands or boyfriends are really fascinated by these knotted necklaces too," Pauls adds. "So boys, think about your mother!"

Herkimer diamond oxidized sterling silver post earrings | $60 | andrea0503.etsy.com Herkimer diamonds are "actually crystals with a unique natural double terminated structure" -- otherwise, these earrings would be a lot more expensive. But it's fondness, not fee, that makes some gifts precious. "Forged" and set by hand, these earrings' old-world charm will hit a special hipster sweet spot: admiration for craft traditions whose roots are firmly in the past

Personalized tattoo mug for Mother's Day (made to order) | $30 | jampdx.etsy.com "There are people out there who love the style [of vintage tattoos] but may not want to commit to wearing this statement for their rest of their lives," say Etsy sellers Jenn and Meghan -- and here's a perfect gift for folks like these. "We immediately thought of the traditional 'Mother' tattoo, because it's so classic and fun." Like real tattoos, these hand-painted designs are permanent; unlike real tattoos, they'll stay pristine over time, uncompromised by saggy arms or wrinkly skin. The mugs are also microwaveable and dishwasher-safe.

Mom Coffee Cozy | $15 | KnotworkShop.etsy.com Sellers Jenn and Meghan (see slide 4) are not the only Etsy merchants with tattoos on their minds. "I always wanted to get a tattoo in my Mom's honor but am pretty certain she'd murder me if I did so," says Diane from KnotworkShop. "I figured a crochet and embroidery version was the second best thing." For a hipster double whammy, get a personalized tattoo mug and a coffee cozy to cover it up when mom's feeling more conservative.

Beware of the Children sign | $26 | spunkyfluff.etsy.com Its quirky hand-drawn font and lively color emphasize the cheery irony of this sign, which was inspired by the "utter mayhem" of neighborhood block parties attended by Etsy seller Kristen Bangs. "One of our more grandfatherly neighbors totters through what we call 'the red zone' to where the adults congregate and often says 'beware of the children' with a wide smile. He's a dear and is the inspiration for this sign," Bangs says, adding: "As a gift from a child or father, it's an acknowledgement that moms have a lot on their hands."

"It's a Hipster Baby" card | $4 | shawnax.etsy.com Don't forget the card. "There are just way too many iconic hipster objects out there!" says seller Shawna X. Inspired by the hipster broods she sees "gracing the streets of Portland," Shawna decided to make cards featuring "adorable" onesies with pictures of objects like monocles, typewriters and unicycles. Each card is printed, cut and scored by hand; they're perfect on their own, or as an accompaniment to the other hipster gifts in our collection.