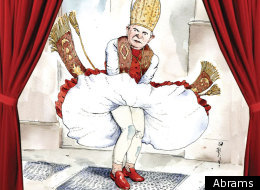 The New Yorker is as famous for its smart, cheeky illustrations as it is for its social commentary. The magazine has published commendable images, such as the striking all-black cover after September 11 and Christoph Neimann's subtle "Dark Spring" cover to honor Japan after the 2011 Japanese earthquake.
But the publication is known for taking risks, and some illustrations have been bemoaned by the public, such as Barry Blitt's satirization of misinformation about the Obamas. The image of Barack and Michelle fist-bumping while burning an American flag did not sit well with many readers.
Even though The New Yorker is unafraid of making bold statements, some artwork has been deemed inappropriate or simply didn't make the cut. Here are a few previously unpublished illustrations courtesy of "Blown Covers: New Yorker Covers You Were Never Meant To See" [Abrams, $24.95] by Françoise Mouly.
In a sketch that Art Spiegelman proposed during George W. Bush's first term, King's dream becomes a nightmrare as black leaders like Colin Powell and Condoleezza Rice provide cover for George W. Bush.

The whole Anthony Weiner "sexting" scandal was so sordid that the media--and Barry Blitt-- didn't hesitate to indulge in "weiner jokes", though in the end the timing of a double issue prevented us from running a cover of that topic.

"I just wanted to do a silly gag, a ridiculous Charles Addams-like situation: 'No room at the inn,' but taking place in one of today's boutique hotels. I should have put Mary on a donkey--it would have been clearer." - Illustrator Ian Falconer

After a year of fighting and endless scaling down of the original bill, Obama finally pushed a comprehensive health care bill past the reluctant Republicans. Seen here are Lou Roman's proposed image for the occasion (left), and Barry Blitt's, which is a tad naughtier.

"Tiger Woods's whole thing was that he was so wholesome, a clean young man who sponsored many products. You just didn't think of him doing something like this. And the whole scandal just kept getting tawdrier and tawdrier, as more and more women stepped forward," Barry Bliltt remembers. "My image is, on the surface so clean because you really have to have some remove from the tabloiedness of a story like this, otherwise it woudn't seem New Yorker-y. To see him in bed with a whole bunch of women, that wouldn't work."

Art Spiegelman, who strived to express his disaccord with virtually all of the policies of the Bush administration, used the iconic Uncle Sam from James Montgomery Flagg's World War I recruiting poster to paint what he saw as the United States' call to arms in the twenty-first century.

Clichés about dangerous women abound. Beginning in 2002, female suicide bombers had started to appear in the middle East, taking advantage of the privacy rules, especially in the Islamic world, that make women less likely to be body-searched than men. Danny Shanahan situated his female bomber with a burka (an anachronism) on the subway grating of a busy New York street.