Tom Morello At Occupy May Day In Union Square (VIDEO)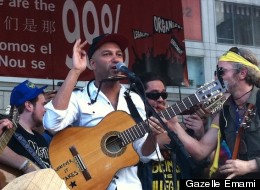 Tom Morello and his "guitarmy" led the Occupy Wall Street masses from Bryant Park down to lower Manhattan in New York on Tuesday, stopping to perform for a captive audience in Union Square, alongside Dan Deacon, Immortal Technique and Das Racist.
"Shall I teach you the words to 'Worldwide Rebel Songs' and we all sing it together?" Morello asked the crowd, which hummed with agreement. "Alright, it goes like this."
Watch Morello lead the audience in song:
See photos of Morello, Dan Deacon and Das Racist performing at Union Square:
All photos and video by Gazelle Emami