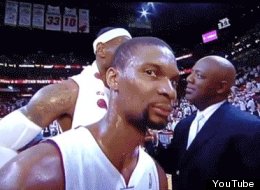 There are few things that the Internet loves more than a well-executed photobomb or videobomb, and that couldn't be more true within the sports world, either.
Post-game press availability? Perfect. Pre-morning skate? Absolutely. Case in point: Chris Bosh's hilarious cameo in a recent LeBron James interview.
After helping defeat the New York Knicks in Game 2 of their NBA playoff series on Monday night, Miami Heat forward Chris Bosh snuck into view as James answered a few post-game questions on the court. Note Bosh's subtle pan into the frame and creepy eye contact on the point, capped by the swift hustle in his retreat. A truly marvelous execution.
Here are other classic moments in sports videobombing and photobombing. Which is the funniest?
Playing in arguablely the most scrutinizing market in all of professional hockey, Ryan Kesler is considered one of the best centers in the game right now. While Kesler might have good speed and deadly accuracy, the American-born player expands his repertoire with another highly-regarded skill: he is a master photobomber. Known around the Vancouver locker room as 'Keslurking', it's become apparent that no one is safe.

Aaron Rodgers is the NFL's all-time career leader in passer rating during both the regular season and the post-season, but his most-overlooked talent is probably his photobombing ability in and out of the pocket seen here. Is this one worthy of a Discount Double-Check?

Arguably the best center in the NFL, Nick Mangold is a four-time Pro Bowler with a hulking frame that has successfully anchored the Jets' offensive line since 2006. The man doesn't need words. Get your photobomb on, Big Nick.

The veteran striker proves that even mandatory team photos can use a little humor. Look carefully. Drogba is a fine example that the Chelsea Blues are anything but.

King James gets his revenge. LeBron celebrated his win over The Blazers by perfecting this creep-in following the Heat's 107-93 victory. In case you were wondering, he also posted 38 points, 11 rebounds, six assists, five steals and a block with zero turnovers that night. Still, the face may be his biggest accomplishment.

We had to revisit Nick Mangold one last time. With a photobomb this brilliant, the man deserves a curtain call.