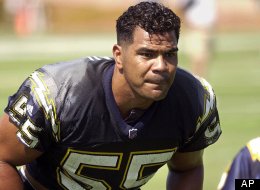 The NFL family was rocked on Wednesday by the sudden and tragic death of 12-time Pro Bowler Junior Seau. The 43-year-old was found dead in his home, reportedly from a self-inflicted gunshot wound.
Shortly after Seau's death was initially reported, the San Diego Chargers responded to the tragedy by issuing a statement.
Everyone at the Chargers is in complete shock and disbelief right now. We ask everyone to stop what they're doing and send their prayers to Junior and his family.
Chargers President Dean Spanos also released a statement, saying that he is "shocked and devastated."
Seau played for the Chargers for the first 13 years of his 20-year career and helped lead the 1994 Chargers team to the Super Bowl.
NFL players across the league, both current and retired, reacted to the news and poured their hearts on Twitter.