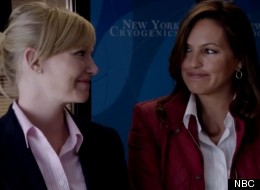 When Christopher Meloni, half of one of TV's most beloved will-they-won't-they-couples with Mariska Hargitay, left "Law & Order: Special Victims Unit" after 12 seasons, it seemed like anyone who joined the "elite squad" of "dedicated detectives" would pale in comparison.
Eventually Kelli Giddish and Danny Pino were hired as series regulars to investigate "especially heinous sexually-based offenses" for Season 13 and this week, Giddish is the one winning the heart of Hargitay's Olivia Benson. In the May 2 episode of "Law & Order: SVU" (Wednesdays at 10 p.m. ET on NBC), entitled "Father Dearest," Benson and Rollins -- Giddish's character who was transplanted to New York's SVU from Georgia -- go undercover at a sperm bank as a couple looking for a donor.
"We went out to set and Mariska's like, 'Hi. Let's go be lovers for a second,'" Giddish told HuffPost TV with a laugh, recalling the scene, which you can see exclusively here below. "We were like, 'When should we have the hand touch? When does the hand touch happen?'"
Despite the lighter moment, "Father Dearest," which also brings guest star James Van Der Beek as the anti-Dawson Leery, is definitely not the feel good episode of the year. In the episode, the squad discovers a suspect who seems to be targeting young, vulnerable women with a similar personal connection to a teenage girl who disappears.
Below, Giddish discusses the startling new installment, joining the show's post-Meloni era, why Ice-T and Coco are two of her favorite people, working with Van Der Beek and Martha Stewart, the future of "SVU" and much more.
I have to say, this week's episode is particularly creepy. Did this one stand out to you at all?
I mean, you get one creepy script after another. Once you start doing the show, it's just people being really cruel and mean to each other, which is always awful. But [this episode, "Father Dearest"] is creepy because you don't know who it is until the very end and why would someone do that? And the character I play on "SVU," she's got a clinical, morbid curiosity about things like this, just what motivates people to do this stuff. So I have to play against getting really creeped out, which is fun. But ever since starting the show, my dreams have been really screwed up. [Laughs.]
I think the other reason I was so startled -- and this often happens with "SVU" -- is because its guest stars, who are usually typecast, go in a completely different direction. Earlier this season, T.R. Knight, who everyone knew as the sweet George O'Malley on "Grey's Anatomy," played a rapist and in this week's episode, James Van Der Beek is a far cry from Dawson Leery.
Yeah. What a great platform for guest stars to be able to come in and play completely against type. It's such an opportunity and that's where the real acting shows up a lot of times, in these guest stars' arcs and their stories. It's really a great thing to see people take those opportunities and run with them. For them to come on and do that, it's always such a pleasure when they hit it out of the park.
James is making a bit of comeback for himself with his new show, "Don't Trust The B---- In Apartment 23." Did you enjoy working with him?
Oh, yeah! Totally. He's very sweet. I'm totally thrilled for him. I remember watching his schtick on Funny Or Die and I was like, "This is hilarious."
It's great when people can make fun of themselves like that.
Oh my gosh! It's so nice. Instead of letting Chelsea Handler do it for you. [Laugh.]
Definitely one of the lighter moments of this week's episode was when your character Rollins and Benson [Mariska Hargitay] go undercover to a sperm bank as a couple. Did you guys have fun with that scene?
It was fun. We had a blast with it. It was the first scene of the day and we went out to set and Mariska's like, "Hi. Let's go be lovers for a second." [Laughs.] We were just cracking up. And it's always so much fun to work with Mariska. And any time you get to do a little something different, in terms of being playful or whatever, it's always fun.
Did you two talk about how you wanted to play that scene or did you just go for it?
No, we just showed up and we were like, "When should we have the hand touch? When does the hand touch happen?" [Laughs.] It was fun. Like I said, any time you get to play around with the characters and act like someone else, it's great.
This episode also had B.D. Wong return and you also worked with Diane Neal earlier this season. Is it intimidating to go into a cast where everyone has known each other and worked with each other for so long?
No, I mean, they really love what they do, everybody there. And it's such a pleasant set and everybody gets along. And they totally included me and Danny [Pino] into the fold in a very graceful, hilarious way. The humor on that set … It's just hysterical. With [Richard] Belzer and Dann Florek.
But it was really cool to have B.D. Wong come back because I'd never met him. I'd seen him on the show, but it's like a band that's been together a long time. It's not like you're the new bassist or you're the son, trying to sing like the dad or anything like that. You're just a new part of the team and that's how they treated us. And I really liked how they didn't try to replace [Christopher] Meloni, too. They brought us both in and just took a different turn with it.
And it was nice to have another female lead character that's not the D.A.
Right. Exactly!
You and Ice-T play partners so you share a lot of screen time. And it's so interesting how he has this one persona on Twitter and with his reality show and then, on the show, even though his character Tutuola is the comic relief, it's very different. What's your dynamic been with him?
Well, Ice-T and Coco are my two favorite people I've met in the last year. I'm just absolutely in love. Ice, he's got such a huge heart and anybody that knows him would do anything for the man. And he's also just who he is, to the end of the line, always. He's not going to take any shit from anybody. Everyday, I come home from work with a quote from Ice that I'm telling my friends. I should be tweeting Ice, like, "Here's Ice-T's quote of the day."
You totally should. I can only imagine because his tweets are so funny.
[Laughs.] And you know, he gets a kick out of it, too. 'Cause he's got a gang on Twitter and he kicks people out. I think he got tweet of the year for telling someone to "eat a bowl of dick" or something. [Laughs.] Actually, "warm bowl of dick," I think was the quote.
Had you watched any of "Ice Loves Coco"?
It's only been on for a year so it hadn't aired when I started on "SVU." But he was like, "Hey, K. Want to hop on this show?" And I was like, "Of course. What are we doing?" Like I said, Ice and Coco and [their dogs] Spartacus and Maximus, they're my favorite people I've met in the past year. They're a joy to be around.
Had you watched "SVU" regularly before you signed on?
I don't watch procedurals usually so no. I'd been on "SVU" before and I'd been on "Criminal Intent," but I wasn't a follower. Like my mom watches every episode, even before I was on it.
That's so cute. This must be a thrill for her.
Yeah, I know. It's awesome. It's like people sit down and just watch marathons of it because people love the characters. It's so nice, I'm guessing for fans, to have this horrendous act and a nice clean ending. If people got hurt, at least justice is served.
Yes. It's satisfying to have a resolution.
Yeah. And it's always cool on the airplane when people are watching "SVU." It's funny. And it's always the reruns.
Yeah. I swear "SVU" is on at least two channels at all times.
Oh my god. Completely! And it's like that in other countries, too … at least, based on the fan mail. Australia, England and all these crazy places.
Speaking of the fans, obviously there was so much attention on the show with Christopher Meloni leaving and you and Danny signing on. Did you want to know fans' reactions to your character or did you want to back away from that?
Yeah, I stayed away from that. That's someone else's job to count the beans. That's not my concern. The reason why I kind of felt like I could step away from that is because I have a lot of faith in the writers and in the initial conversations. I had a lot of faith in how they were handling introductions and that kind of thing. So I felt like I could just step back. And if the fans like me, then great and all hopes they would enjoy it, but they're obviously going to miss Chris Meloni a lot. I wasn't trying to step into his shoes. But I was very hopeful. I did shy away from online stuff, but definitely in the street when people would recognize me, I so much appreciated -- and I still appreciate -- fans saying, "You're a great addition to the show." It's so nice to hear that because they do enjoy it and it's been a long road. I don't think it was shoved in their faces. And that's kind of how I wanted to approach it. I didn't want to be the square peg going into a round hole.
What attracted you to the character of Rollins?
I like playing someone with curiosity and someone who's good at her job and is ambitious. And also, she's got problems. We find out she's got the gambling issue and to play a non-perfect character, of course, is always a thrill.
When did you find out that the gambling was going to be an element of the character and what was your reaction to it?
We had talked about it at the very beginning. And ["SVU's" executive producer and showrunner] Warren Leight, he's very open to suggestions about where you want to take your character. And we knew she had a past and we needed to address how she got to New York from Georgia and what are the ramifications of picking up and moving you're life when you're 30 or whatever. I think that manifested itself in a bad habit for her. So I loved the idea and I knew that was kind of an underbelly that was going to come out sometime in the season. And whenever it did, I was looking forward to playing with it.
It was interesting too to see the Captain's [Dann Florek] interaction because of his own addictive behavior.
I loved, loved playing that with Dann Florek. Any time you get to show something that's not one of the plots of that week or whatever, it really helps to define that character's perspective and you know where they're coming from in terms of how they're going to investigate a case. To inform a perspective like that, it makes it clearer where all of us are coming from and where we're trying to go. It makes the case that much more interesting. Like you know where Ice-T is coming from and you can't wait to hear what's coming out of his mouth because, after 13 years, you know him.
Tutuola's one-liners are just great. I know Martha Stewart's in an upcoming episode, too. Did you have any scenes with her?
Yeah! It was me and Mariska with her. She was great! She came in and took a crapload of pictures of everybody -- the crew and the cast. And she was really happy to be there. It was a really good role for her because she plays a headmistress. [Laughs.] Your eyes kind of brighten when you hear that someone kind of off the wall is in the episode. You're like, "Great! I can't wait for that day!" She was very gracious and very happy to be there, so it's fun.
I would have been hoping she baked you guys something.
I know. I wish I had that story, [like] "She baked 10,000 cookies for the entire cast and crew!"
It was also recently announced that Mariska signed on for another season. Do you want to continue being a part of the show?
Sure. When I first got this job, I was so excited because I've been on two first-year shows in the last three years and it's just such a blessing to be on a show that is stable and has been around and has got a definite fanbase. But also, it's not afraid of changing it up and they did change it up this year.
And I really enjoy being a part of show that helps a lot of people and really exposes a lot of information and something that could be clouded over. I mean, one out of five women is sexually assaulted? It's horrifying! So to be a part of a show that takes the time and examines that and sheds some light where it's been a little dark for people, it's a pleasure to do and I'm very proud of that.
Were there any cases that stood out to you or touched you particularly?
Yeah. It was the one with the basketball coach.
That was eerily prophetic with the Jerry Sandusky case breaking shortly after that episode aired and all of the similarities.
It was so strange. It was like, "Who's informing who here?" During that episode too, I had a scene with Ice and my character Rollins says, "Male victims of sexual assault are where women were 50 years ago." It's a very taboo thing to come out and talk about it. And then, two weeks later for the Sandusky thing to come out, it was like, "Hell yes. Let's start talking about this stuff." So that one was really touching.
"Law & Order: SVU" airs Wednesdays on NBC at 10 p.m. ET.
Check out more of what to watch on TV this week below:
"Bones" (8 p.m. ET on Fox) When a corpse is found in the middle of the woods, the team links the victim to two families that have been feuding for almost a century. Brennan and Booth interrogate a family member with a shocking confession that leads them to a motive for the victim's murder. Meanwhile, Brennan has a difficult time accepting her father's (guest star Ryan O'Neal) offer to babysit their infant daughter because of his unpredictable presence in her own childhood.

"Hart of Dixie" (9 p.m. ET on The CW) Wade signs up for the Bluebell Battle in hopes of winning the five thousand dollar prize, but when he strikes out finding someone to be his race partner, he must swallow his pride and ask Zoe. Meanwhile, George and Lemon meet with Reverend Mayfair to discuss their relationship issues.

"The Bad Girls Club" (10 p.m. ET on Oxygen) Part one of the "Bad Girls Club" season 8 reunion, hosted by Tanisha Thomas, of season 2 fame. Things get off to an exposive start when Gia trades trash talk with a member of the audience, leading to an all-out brawl. Followed by the season finale of "Brooklyn 11223."

"Cougar Town" (8.30 p.m. ET on ABC) Jules has a hard time accepting that Holly (guest star Briga Heelan) is part of her life, a situation that does not improve after she finds out that Holly and Travis made out; Andy wants to run for mayor so he can change the town rules against weddings on the beach (something Jules has her heart set on), but Ellie won't let him; and Laurie tries to convince Bobby he's just socially inept, not prejudiced, after he blurts out some awkward comments at the cake shop.

"The L.A. Complex" (9 p.m. ET on The CW) Though the Canadian soap had a fairly inauspicious debut, that doesn't make it any less worthy of your time -- especially the episode's excellent final act. A struggling Abby is given the chance to make some big cash as long as she's willing to "play the part." Raquel decides she's not going to wait by the phone any longer and starts pushing to get a movie made where she can play the lead. Alicia's not having any luck with her dancing auditions so she takes a different approach by attending a party with a D-list actor (guest star Aaron Abrams). Meanwhile, after presenting an impressive demo at the studio, Tariq is offered the chance to produce a track with the infamous rapper Kaldrick King. However, Tariq quickly realizes that this new role won't be easy.

"Secrets of Bin Laden's Lair" (10 p.m. ET on Discovery) Special Presentation When SEAL Team Six killed Osama Bin Laden in 2011, they scooped up a prize far more valuable than Bin Laden himself: a hoard of hard drives, computers, and personal papers. The special provides insight into herculean efforts to seize the intelligence and analyze it, as well as exclusive interviews with the government insiders and journalists who were briefed on the intelligence. The Intelligence provides insight into Bin Laden's leadership of Al Qaeda, details about other terrorist groups he corresponded with, how he evaded capture for so many years, and a chilling insight into the plots bin Laden was scheming. Viewers will also learn about the personal life of the world's most wanted terrorist and his numerous wives who lived with him in his compound.

"Suburgatory" (8.30 p.m. ET on ABC) As George and Eden's (guest star Alicia Silverstone) relationship gets serious, he decides to introduce her to Tessa, who is preoccupied with her job at Crystal Cup of Crystals. Meanwhile, George and Noah make a deal regarding George's relationship boundaries with Eden, and Eden is overwhelmed by Sheila's meddling and the Werners' overprotective behavior.

"Don't Trust The B---- In Apt 23" (9.30 p.m. ET on ABC) If you thought that the show was hilarious before, you ain't seen nothin' yet. June is devastated when she receives a wedding invitation addressed to her and her ex-fiancé, so in an attempt make her feel better, Chloe gives June a crash course in confidence and fierceness -- but does too good a job. Guest-starring Kevin Sorbo (Hercules!) in a genius cameo.

"Law and Order: Special Victims Unit" (10 p.m. ET on NBC) If you can't get enough of James Van Der Beek, he's also guest-starring on "SVU" this week. Detectives Benson and Amaro investigate the disappearance of a teenaged girl after her young brother calls 9-1-1. While Fin and Rollins look into a possible abduction, they discover the girl had been searching for her biological father, an anonymous sperm donor. The investigation takes a startling turn when a suspect is found to be targeting several young, vulnerable women, all with the same personal connection. But the suspect isn't what he seems, and Dr. Huang must delve into his past to save the women.

"The Big Bang Theory" (8 p.m. ET on CBS) NASA reschedules Howard's mission, putting the wedding plans in jeopardy. Meanwhile, Leonard says something surprising to Penny in the bedroom.

"Parks and Recreation" (9.30 p.m. ET on NBC) Leslie goes on a bus tour for the final day of her campaign, and is caught off guard when an important person in Pawnee passes away. Meanwhile, Andy susses out a security threat, and Chris finds an unlikely cure for his depression. Paul Rudd guest stars.

"Awake" (10 p.m. ET on NBC) Detective Britten and Bird look into what appears to be a case of gang violence, but clues from his other reality force him to look a little closer. Meanwhile, Hannah uses her intuition to talk through a tough situation with Rex's girlfriend Emma. Later, Captain Harper (guest star Laura Innes) finds herself having to take back a promise and Detective Vega is planning Britten's going away party.

"Nikita" (8 p.m. ET on The CW) When it looks like Percy's nuclear weapons plan is getting out of control, Ryan suggests they go to the Director of the CIA, Morgan Kendrick (guest star Brian Howe), for help. Nikita is vehemently opposed to the plan and is surprised when Michael takes Ryan's side. Tensions escalate when Nikita is proven right after they discover Kendrick has a link to Percy. Meanwhile, Sean is shot by Percy's men, shaking Alex to the core.

"Fringe" (9 p.m. ET on Fox) A mysterious Fringe event causing people to spontaneously combust forces Walter to revisit his painful past, while the Fringe team faces off against David Robert Jones to save the world, or worlds. (Part 1 of 2.)

"Supernatural" (9 p.m. ET on The CW) Meg calls Dean and Sam and tells them Castiel is awake and talking. Meanwhile, a teenager named Kevin (guest star Osric Chau) gets hit by a bolt of lightening and is turned into a reluctant prophet. Sam and Dean believe Kevin holds the key to defeating the Leviathans, but must fight off two Archangels who want him for their own purposes.

"In Plain Sight" (10 p.m. ET on USA) series finale In the series finale, Mary finds herself caught between her "model" witness and an unexpected family reunion, while radical changes take place around the WITSEC office.

"Treasure Island" (7 p.m. ET on Syfy) original mini-series In a special, one night only movie event, Syfy will present a fresh, new spin on the classic tale, Treasure Island, featuring an all-star cast led by Eddie Izzard, Elijah Wood and Donald Sutherland. Robert Louis Stevenson's swashbuckling adventure story about fantastical treasure, youthful courage and murderous greed will from 7-11 p.m. ET. Izzard stars as Long John Silver, Wood plays Ben Gunn and Sutherland portrays Flint.

"Once Upon a Time" (8 p.m. ET on ABC) Henry pleads with Emma to stay in Storybrooke and continue her quest as the savior of the fairytale dwellers, and Regina concocts a plan that could rid her of Emma forever. Meanwhile, back in the fairytale land that was, Snow White enlists the aid of her fellow fairytale cohorts to attack the Evil Queen and save Prince Charming's life.

"The Comedy Awards" (9 p.m. ET on Comedy Central) special presentation Now in its second year, this awards show is dedicated to celebrating the art of comedy with an historic, one-night-only celebration honoring the most talented writers, directors, actors and stand-ups, who provided the laugh track to our lives this past year. Presenters include Chris Rock, Will Arnett, Tracy Morgan, Maya Rudolph, Adam Scott and Jon Stewart.

"Sherlock" (9 p.m. ET on PBS) season premiere Rejoin the 21st-century team of Sherlock Holmes and Dr. Watson as they battle the worst that modern criminality has to offer. Following a too-close encounter with Moriarty, crafty dominatrix Irene Adler attempts to outsmart Sherlock at his own game.

"GCB" (10 p.m. ET on ABC) season finale When Carlene takes the GCBs down to unincorporated Juarez for the groundbreaking ceremony for the Condos for Christian Living, the GCBs find themselves in danger. Meanwhile Amanda's suspicions regarding Luke lead to a surprising discovery about Ripp.