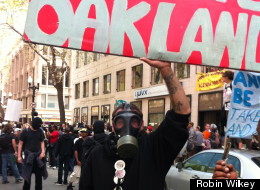 UPDATE: The May Day protests escalated in Oakland throughout the night, leading to 23 arrests including one for suspicion of felony assault on a peace officer. At about 9:30 p.m., a police car was set on fire. In San Francisco, about 200 protesters fought with police at the occupied building at Turk and Gough Streets. One man, Jesse Nesbitt, was arrested and booked for felony aggravated assault of a peace officer for allegedly throwing bricks from a rooftop at officers on the ground below. SFPD reported that Nesbitt instead struck a protester. According to the San Francisco Chronicle, another man, who threw pipes from a similar vantage point, damaging a police car, was not found. According to KGO, about two dozen people were taken into custody as the building was cleared on Wednesday morning.
SAN FRANCISCO -- Thousands of protesters flooded the streets of San Francisco and Oakland on Tuesday as part of the nationwide May Day general strike organized largely by Occupy Wall Street.
In Oakland, a crowd marched down Broadway at noon, closing the thoroughfare to downtown traffic. But protesters quickly clashed with police.
The situation escalated when officers attempted to lead a patrol wagon onto the scene to make arrests. Protesters surrounded the vehicle, prompting police to deploy tear gas and flash bang grenades to disperse the crowd. Officers made several arrests, and Occupy Oakland organizer Boots Riley tweeted that one woman was sent to the hospital for a head injury allegedly inflicted by authorities.
(SCROLL DOWN FOR PHOTOS/VIDEO)
The crowd settled following the altercation, gathering at Frank Ogawa Plaza (the site of the Occupy Oakland encampment last fall). Organizers circled the crowd with petitions to recall Mayor Jean Quan.
At around 1:30 p.m., protesters again clashed with police, this time at 14th and Clay Streets. Officers again dispersed tear gas, and the Alameda Sheriff's Department brought in a tank to control the crowd. Protesters pushed against the police line, chanting, "We are not afraid."
Among the protesters was Scott Olsen, the 25-year-old Iraq war veteran who was critically injured by a police projectile on October 25. At Tuesday's protest, Olsen wore a black helmet to protect his head.
"I shouldn't have to wear a helmet to go out like this, but I do," he told Mother Jones's Gavin Aronsen. Olsen explained that he is getting better but that he's still "not alright." (Aronsen himself made headlines after he was arrested while covering an earlier Occupy protest.)
"I think today is going to be a real testing day for Occupy," Olsen told Mother Jones. "I don't think people have given up on it. They're afraid to come out for several reasons."
At 3 p.m., protesters gathered at the Fruitvale BART Station, the site of the infamous 2009 Oscar Grant shooting, for the March for Dignity and Resistance. At the time of publication, a crowd of several hundred was marching from Fruitvale BART to Frank Ogawa Plaza for a 6 p.m. rally.
The protests were a part of a national May Day general strike organized by Occupiers, laborers and immigration activists. Similar demonstrations occurred in Los Angeles, Boston, Seattle, Austin and other cities. Thousands gathered for an enormous protest in New York.
Meanwhile, across the bridge in San Francisco, the general strike actions on the ground remained largely peaceful and marked by coordination between desperate groups.
Chants of "Si se puede" echoed from outside the 24th Street BART Station, where around 200 people gathered at 10 a.m. for a pro-immigration march. While only blocks away from Valencia Street corridor, where a group of vandals broke off from a pre-General Strike rally last night and attacked the storefronts of 30 local businesses, the Tuesday morning action was uniformly peaceful. Dozens of police officers surrounded the crowd as it marched north along Mission Street toward the 16th Street BART Station.
Protesters nibbled on pastries, provided free of charge from a local bakery, and carried a puppet depicting a vampire squid, a term coined by Rolling Stone columnist Matt Taibbi to describe powerful investment firm Goldman Sachs.
Later that morning, a similarly-sized crowd of union workers and labor activists gathered in front of the Westfield San Francisco Centre to protest a labor fight between janitors and retail workers and the mall's management.
"What is the middle class in the middle of?" a union leader asked into a megaphone as he leaned over the edge of a pickup truck parked in the front of the mall. "A class war," he answered. Just then, a firetruck drove by and honked its horn, presumably in solidarity with the picketers. The crowd erupted in cheers.
A few blocks away, a considerably smaller group gathered at the intersection of Market and Montgomery Streets, blocking traffic for over an hour. A band played union anthems and people distributed t-shirts and free books while protesters held aloft a giant cut-out of a guy in a business suit in front of the headquarters of banking giant Wells Fargo. The immigration protestors from the Mission and the labor activists from the mall both converged on the intersection, instantly tripling the size of the crowd.
Unlike their Oakland counterparts, San Francisco police did not attempt to remove the crowd from the intersection.
By 2 p.m., the combined crowd was on the march once again, this time heading up Market Street and camping out for about a half hour in the middle of the busiest intersection in all of San Francisco, Market and Van Ness Avenue. Eventually, the crowd started moving again, up Van Ness with a turn down Turk Street, until it stopped in front of a building near the intersection of Turk and Gough Street.
Activists streamed into the abandoned building, owned by the Archdoises of San Francisco and occupied by the organization earlier this year, proclaiming it the new "SF Commune."
Police initially surrounded the building but backed off after a few minutes. No violence or major property damage has yet been reported on the San Francisco side of the Bay.
Check out photos and videos from San Francisco and Oakland protests, as well as a video tour of the occupied San Francisco building, below:
As thousands of people streamed down Broadway into Lower Manhattan, they faced a choice: go home to their apartments or stick around to see what happened next. Many -- including almost all the union members and immigrant rights' activists, it seemed -- chose the former. The younger demonstrators who remained, many of them clad in black, headed to the Vietnam Veterans Memorial Plaza.
By 9 p.m., perhaps a thousand protesters were gathered in the small park. "This park officially closes at 10 p.m. Some of us will stay here indefinitely," one speaker announced over the human microphone. The goal was nothing short of re-occupation.
As the hour wore on, people sat and chatted and something of a General Assembly occurred. (Occupy Wall Street hasn't had one of those gatherings since March.) Shortly after 10 p.m., a police officer on a bullhorn announced that anyone who stayed would be arrested. Most of those assembled complied with police orders. A few -- reportedly from Veterans for Peace and Occupy Faith -- stayed on, willing to be arrested.
Hundreds streamed into the night, some getting on subway trains and others engaging in a cat-and-mouse game with the police through the Financial District's narrow streets. The Huffington Post witnessed several arrestees loaded into a police van at Hanover Square, including one of a man wearing an Oakland Athletic's baseball cap.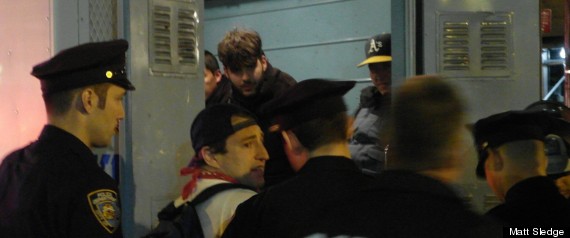 By the end, a few hundred protesters gathered in Zuccotti Park to wind down a successful day's gathering and relive old times. In the city host to the A's, meanwhile, the night was only getting started.
-- Matt Sledge