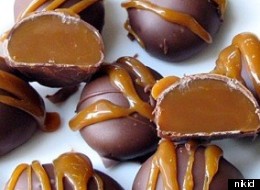 Mother's Day 2012 is just around the corner, and that it's time to buy those gifts you've been putting off purchasing because it's so hard to think of something original. That's where we come in. With the help of Etsy, we've put together a list of gifts that are sure to wow any mom come May 13th.
On the day when we celebrate the maternal figures in our lives, it makes sense, above all, to honor the woman who gave you your mother (or your father): your grandmother. Sure, she may not have birthed you, but her mothering made your life possible just the same. She may have overindulged you as a child, or pinched your cheeks a whole lot, or introduced you to theater, or made not so politically correct statements -- in public -- but you love her a whole lot regardless. Material gifts can't ever fully express that love, but they are a great way to show your appreciation.
LOOK: 8 Thoughtful Gifts For Your Mom's (Or Dad's) Mom
Mother's Day 2012 Gift Guide: For Your Mom's Mom
Pottery bird bowl | $23, Pairs for $39 | PrinceDesignUK.etsy.com These bowls by PrinceDesignUK are so pretty you almost won't want to fill them with anything. And because each one is handmade, they're all unique. "They are unashamedly feminine, and are frivolous enough to feel like a treat, rather than a purely functional piece," the seller told The Huffington Post. And let's be honest -- every grandmother deserves a whole lot of treats.

Retro Tea Print Coffee Poster | $19 | handz.etsy.com Just like Betty White, your mom's mom is probably still pretty hot. Why not get her a poster that expresses that hotness while appealing to her taste for tea and coffee? This poster will be a perfect addition to any kitchen's decor. So how did the seller, Jan, get the idea for this poster? "I love tea, I love vintage mid-century items and I love classic movies." Sounds like a winning combination to us.

Family Tree Locket | $26 | SilkPurseSowsEar.etsy.com The best part about this locket? There's room for four photos, not just two, so your grandmother doesn't have to pick and choose her favorite family members. It also happens to be a classically beautiful piece of jewelry. "The idea of a locket itself is perfect for Mother's Day because it's sentimental, very personal and has an old-fashioned [quality] that's quite charming," the seller told The Huffington Post.

Gourmet Milk Chocolate Covered Caramel 1 Lb. Box | $20 | nikid.etsy.com Sure, chocolates are a predictable gift, but for the best reason: there's almost nothing better. "Caramel and chocolate mixed together in a tasty little bundle is sure to please even the finickiest of mothers," the seller told The Huffington Post. "All joking aside, I think these truffles are just a decadent way of showing you care." Who says your golden years can't be the sweetest?

Zipper Pouch Eyeglass Case | $30 | MontclairMade.etsy.com Is your grandmother super hip? And does she have glasses of some sort? If so, this is the gift for her. According to the seller, these cases have been a big hit. "I have so many customers come back to buy these for presents after their friends see theirs!"

Family Tree Custom Silhouette Print | $200 | CreativeFamilyTree.etsy.com On a holiday that's all about family, what could be a better present than a customized family tree? "Literally, my Family Trees were conceived as a Mother's Day present. My own mother is a genealogy buff," the seller told The Huffington Post. Bonus: Each silhouette is based on a photograph that you send in, so the tree is true-to-life.

Retro Sun Hat in Cilantro Canvas | $55 | Bonniesknitting.etsy.com This stylish green hat is for the sun-conscious grandmother who couldn't be un-chic if her life depended on it. Proof? "I recently came across a black and white photo of Audrey Hepburn knitting while wearing a similar style hat," the seller told The Huffington Post.

Lavender Sachets | $20 | gardenmis.etsy.com Her home has always been open to you. Now you have a chance to give a little something back to it with these lavender sachets bound to make any closet or drawer smell like a meadow in Provence. "This would make a lovely gift for Mother's Day just for the cuteness factor [of the designs] but also has the most wonderful scent that calms and soothes. Mothers tend to love these!" the seller told The Huffington Post. Who wouldn't?