Wardrobe Malfunctions Gallery: See This Week's Almost-Dangerous Outfits (PHOTOS)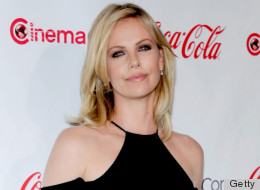 We had a hefty dose of wardrobe mishaps this week, including Kanye West's hilariously (and probably PR-planned) pants dropping while out with Kim Kardashian, and from Wednesday night, Jessica White's dangerously high slit dress. Socialite Poppy Delevingne also sported some pretty brazen pants.

There were some other celebs who we feared would make a huge wardrobe blunder this week. Check out the slideshow to see our picks for who came closest to a nip slip, a sheer dress fail and other blushworthy outfit foibles!
Almost Wardrobe Malfunctions
Selena's soaking wet in her new fragrance ad ... and is that top held up in the back with just a string? (Courtesy)

Rosario's dress was ill-fitting on top, making us worried she'd pop a button or two. (Getty photo)

The actress wore a very sheer tee at the New Face Film Awards in Germany

Charlize's CinemaCon awards dress looked like it was attacking her... and ready to bail. (Getty photo)

Sheer and patterned at the Billboard Latin Music Awards. (Getty photo)

Pregnant Adriana hung onto her hemline for dear life. (Getty photo)

This British actress hopefully didn't move around too much in her daring sheer gown. (Getty photo)

Audrina's sheer shirt hardly covered her black bra. (Getty photo)