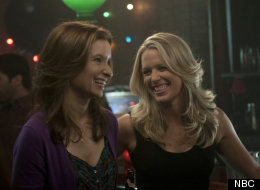 "Best Friends Forever" is returning to NBC. But don't get rid of those sad khakis just yet, it's for one night only.
According to The Hollywood Reporter, the comedy created by and starring Lennon Parham and Jessica St. Clair will return to the Peacock's schedule on Fri., June 1, starting at 8 p.m. ET.
The show debuted in April to critical acclaim and about 4 million viewers, decent numbers for NBC. However, the show slipped in ratings in subsequent airings. Its last episode in its original Wednesdays at 8:30 p.m. timeslot has 2.7 million viewers. The show was yanked from the schedule and replaced with additional episodes of its lead-in, "Betty White's Off Their Rockers."

Fans have rallied behind the show on social media using the term #SaveBFF on Twitter and circling a petition to save the show from cancellation. Co-creators Parham (@lennonparham) and St. Clair (@jessica_stclair) are also involved with the effort to save the series.