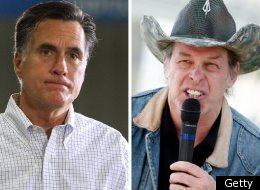 Mitt Romney's campaign on Friday rejected an earlier claim from surrogate and rocker Ted Nugent that Nugent had received the Romney campaign's "support" in the wake of his inflammatory tirade against President Barack Obama and Democrats last month.
At a National Rifle Association convention in St. Louis in April, Nugent said that he would be "dead or in jail by this time next year" if Obama is re-elected. He later went into a long-winded analogy about needing to "chop [Democrats'] heads off in November." The Secret Service took notice of his remarks, and as is customary in such situations, paid the entertainer a visit, which the musician has maintained was professional and cordial.
In an interview with CBS News that aired on Friday, Nugent claimed that the Romney campaign had "expressed support" following his remarks. He went on to describe what he perceived as an indirect approval of his rhetoric.
"I got the sensation it was -- not from Mitt himself or Mrs. Romney -- 'Stay on course, Ted, freedom of speech is a beautiful thing,'" Nugent told CBS.
(Above, more video from Nugent's interview with CBS)
According to The Hill, however, the Romney campaign has since denied having had any contact with Nugent regarding his outburst.
A campaign spokesperson also reportedly re-released the same response they gave immediately following Nugent's initial comments, which decried "divisive language" and reiterated the former Massachusetts governor's support for civility.
Here's a look back at other controversial comments Nugent has made:
Ted Nugent's Most Outlandish Statements
"If Barack Obama becomes the president in November, again, I will either be dead or in jail by this time next year," Nugent said to NRA supporters in April 2012. "If you can't galvanize and promote and recruit people to vote for Mitt Romney, we're done." Nugent added: "We need to ride into that battlefield and chop their heads off in November."

During an interview in 2008, Nugent had harsh words for undocumented immigrants. "In an unauthorized entry, armed like they are right now, invading our country, I'd like to shoot 'em dead," Nugent told Fox News' Sean Hannity.

After sparking controversy with his anti-Obama screed that earned him a Secret Service investigation, Nugent doubled down on his remarks during an interview with radio host Dana Loesch. "I'm a black Jew at a Nazi-Klan rally," he said. "And there are some power-abusing, corrupt monsters in our federal government that despise me because I have the audacity to speak the truth."

"Wasserman Schultz is such a brain-dead, soulless idiot," Nugent told Dana Loesch after the Florida congresswoman criticized his anti-Obama comments. "I could not be more proud that this soulless, heartless idiot feebly attempts to find fault with Ted Nugent, because I am on the right track and she just encourages me to stand stronger."

During a 2011 interview with CNN's Piers Morgan, Nugent outlined his views on gun control. "Anybody that wants to disarm me can drop dead," Nugent said. "Anybody that wants to make me unarmed and helpless, we're gonna literally create the proven places that where more innocents are killed called 'gun-free zones,' we're gonna beat you. We're gonna vote you out of office, or suck on my machine gun, you can take it whichever way you want."

While on stage at a 2008 concert, Nugent held up machine guns and shared his thoughts on Barack Obama and Hillary Clinton. "Hey, Obama," he said, guns in hand. "You might wanna suck on one of these, you punk." He continued, "Hillary, you might wanna ride one of these into the sunset, you worthless bitch."

In 1990, Nugent caused a stir when he commented on racial segregation in South Africa to Detroit Free Press magazine. "Apartheid isn't that cut and dry," Nugent said. "All men are not created equal. The preponderance of South Africa is a different breed of man. I mean that with no disrespect. I say that with great respect. I love them because I'm one of them. They are still people of the earth, but they are different. They still put bones in their noses, they still walk around naked, they wipe their butts with their hands ... These are different people. You give 'em toothpaste, they f---ing eat it ... I hope they don't become civilized. They're way ahead of the game."