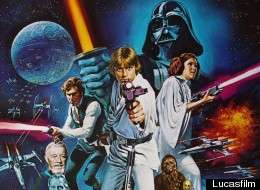 "Star Wars" Day is here.
For the uninitiated, "Star Wars" Day -- an unofficial and fan-created "holiday" -- occurs every year on May 4, because "Star Wars" fans love their puns: "May the Fourth be with you." (Get it? Instead of "May the Force be with you.")
"Star Wars" Day isn't sanctioned by Lucasfilm (though the company is all for it) or the U.S. government, but that doesn't stop millions of "Star Wars" fans from celebrating the holiday by -- well, by at least remembering its existence and perhaps sending an earnest e-mail to their "Star Wars" buddy about why the original trilogy is so great. (Just me?)
Ironically, there actually is a "Star Wars" Day on the official record: the Los Angeles City Council declared May 25 to be "Star Wars" Day because that was the day "Star Wars: Episode IV - A New Hope" was released in 1977. The George Lucas classic has its 35th anniversary later this month.
So! To enjoy "Star Wars" Day, you have a few options: you can watch "Star Wars" (just the O.G. trilogy; we're not monsters); you can make a few bad "Star Wars" jokes at work ("These are not the memos you're looking for..."); you can check out Casey Pugh's "Star Wars" Uncut (highly recommended), a fan crowdsourced recreation of "Star Wars"; or, you can watch 14 funny "Star Wars" videos below.
Insert pithy "Star Wars" reference here and happy viewing! OK, and fine: May the Force be with you.
Favorite 'Star Wars' Videos
"A Star Wars themed, four-part a cappella musical tribute set to cinematic themes from composer John Williams. YouTube video (lip sync) by Corey Vidal Vocals (ALL singing) by Moosebutter. Written and recorded by Moosebutter."

"For our latest mission, we staged a reenactment of the first Princess Leia / Darth Vader scene from Star Wars on a New York City subway car. Produced and Created by Charlie Todd (improveverywhere.com); Produced and Edited by Matt Adams (www.mattadamsapple.com) Music by Tyler Walker (tylerwalkermusic.com)."

"Long ago in a galaxy far, far away... We bring you CELLO WARS! A result of 6 months of production...our most ambitious undertaking by far! Why Star Wars Cello? Because of our unending admiration of George Lucas, John Williams, and the most EPIC movies and film score ever created."

"Chris Pratt becomes more powerful than you can possibly imagine in this video for Kinect Star Wars (T), coming to Xbox 360 with Kinect!"

"A Star Wars themed, Ke$ha Tik Tok music video spoof! We've also referenced a couple of other movies and have thrown in some Easter Eggs for the hard core Star Wars crowd."

"Kinect Star Wars is a little like Kinect Adventures where you have various types of games to play. This is my 2nd attempt at dancing, after choosing an epic track "I'm Han Solo" to dance to. Sorry for the picture quality - I don't have a screen recorder so I just pointed my camera at the TV."

"A pint-sized Darth Vader uses the Force when he discovers the all-new 2012 Passat in the driveway. This award-winning commercial first aired during the 2011 Big Game. Watch our 2012 Game Day commercial here: vwoa.us"

"And you thought business meals were uncomfortable."