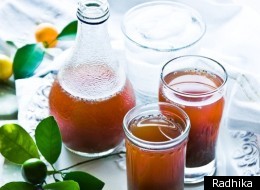 Whether you cook dinner every night or you're a weekend warrior in the kitchen, we know you've got some tricks up your sleeve. Every home cook does. And we wanted to see what incredible dishes you've been busy making. So we put a call out, and you delivered -- and boy were we impressed.
The dishes you shared look and sound delicious -- and we're happy to know that you're all eating so well. If you haven't yet shared your best cooked dish from April yet, it's not too late. Just use the handy tool below to submit a slide. Or you can tweet us @KitchenDaily with the hashtag #bestdish or email us at kitchendaily@huffingtonpost.com.
Haven't been busy in the kitchen lately? That's okay -- if you've been eating out instead, send HuffPost Food the best pics of the restaurant dishes you've been eating. Just tweet @HuffPostFood with the hashtag #bestdish or send an email to food@huffingtonpost.com.
Submitted by Radhika (@justhomemade).

Lisa's Cookie Shop (@lisascookieshop).

Submitted by Tanisha Bailey-Roka. Get the recipe

Submitted by Adam Cronrath. Get the recipe

Submitted by Cherie Wallace.

Submitted by Ripe (@ripecuisine). Get the recipe

Submitted by GastroChef (@Gastro_Chef).

Submitted by Ripe (@ripecuisine). Get the recipe

Submitted by Paula Akkari.

Submitted by Tom Souhlas. I roasted a whole lamb on a spit in my backyard. For a bit of background, I grew up in a small town in Illinois. My parents are both from Greece (obviously they ran the best cheap diner in town, with a menu the size of a Tolstoy novel). Since my day-to-day social surroundings were as American as a Chevy, they enrolled me in Greek school, and sent me to the motherland each summer. Along the way, I've developed an extreme devotion to Greek food (I can't say the same for the hairy-chest-gold-chain-greasy machismo that was also somewhat encouraged). Now, I live in Portland, Oregon, far from the homemade food I love. Easter, in general, is a gigantic feast in most Greek homes. Most of us observe Herculean feats of dietary restraint during lent (mostly just vegetarianism with some veganism tossed in from time to time). We break said restraint on Easter. In the spirit of nostalgia, I decided to throw an Easter party in my home away from home. First order of business: finding an animal to eat. Obviously, I chose lamb. Up to mid-April, that lamb grazed on green pastures, about an hour south of Portland. On the Friday before Easter, Dan, the guy from the farm, brought me the 45-lb. carcass. I'll cut to the chase. I dug a trench in my front yard; surrounded it with cinder blocks; built a fire; tossed in some charcoal; jammed a metal rod through the lamb; covered the lamb in salt, pepper, oregano, rosemary, lemon and wine; stuffed garlic cloves into the meat; filled the carcass with lemon rinds and extra garlic; put the lamb over the heat; rotated it a quarter turn ever four minutes for four hours; basted it regularly with wine, oil, lemon, and extra herbs; cut it into pieces; ATE FOR DAYS. Then I made 3 gallons of lamb stock.

Submitted by Tan Sam.

Submitted by Cherie Wallace.

Submitted by Danielle (@nuodaispalis).

Oldways (@OldwaysPT). Get the recipe

Oldways (@OldwaysPT). Get the recipe

Submitted by Tom Souhlas. I made a spanakopita that would've made my mother jealous.

Submitted by Catherine (@cat_forewoman).

Submitted by Shiny Tomato (@shinytomato). Get the recipe

Submitted by A Reluctant Foodie (@ReluctantFoodee).

Submitted by Jess Rice.

Submitted by Cherie Wallace.

They may not be complex, but the seasonal blueberries and warm brown sugar and oatmeal combo give spring a big high five Submitted by Meris Stansbury.

Submitted by Morgan Donaldson. Burrito served with Zucchini and Jalapeño Stuffed Mushrooms and Garlicky Guacamole.

Submitted by Dolores Weins.

Submitted by Michelle Stein.

Submitted by Kristel Salesse (@KristelsKitchen).

Submitted by Panfusine (@panfusine).

Submitted by Matthew Shipman (@austinchefnut). The salad includes Napa Cabbage, Kale, Grapefruit, Peanuts, Fried Soba Noodles & Quinoa in Citronette.