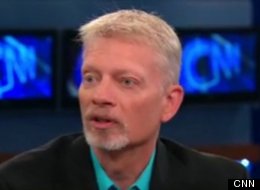 The former director of the "ex-gay" conservative Christian ministry Love in Action spoke to CNN today ahead of a feature-length documentary film that exposes many of the practices involved in so-called "reparative" therapy.
John Smid -- who came forward last fall saying not only that he is gay, but that it is impossible to change one's sexual orientation -- spoke at length about his previous work on CNN this morning.
"We wanted to teach the wrongs of homosexuality -- why it was a sin, why it was wrong, how it could harm their lives -- not realizing that stuff was going on in their hearts that we wouldn't allow them to share," Smid recalled.
Smid appeared alongside filmmaker Morgan John Fox, who produced "This is What Love in Action Looks Like," a new documentary focusing on the work of Love In Action.
"Now, as I look back, there really is no change in orientation," Smid added. "And yet at the time, we really believed we were somehow going to rescue these kids from a life of homosexuality...so we set them up, really, for a facade, we set them up for a false image of what life would be like."
Smid now runs Grace Rivers, a monthly Christian fellowship group for "those who call themselves gay and want to seek a relationship with God in a place where they're free to do that."
Take a look at the "This is What Love in Action Looks Like" trailer as well as other "ex-gay" cases below:
In July,gay advocacy group Truth Wins Out released video footage allegedly shot undercover at the Christian-affiliated Minnesota clinic owned by Michele Bachmann and her husband, and claimed to find evidence of conversion therapy being performed on the premises. "Michele Bachmann wants to be in the Oval Office and wants to be the president of the United States," Wayne Besen, "It's important to know what her true beliefs are and what goes on in this clinic."

Last July activists dressed as "gay barbarians" traveled to Bachmann's clinic to protest its alleged "pray the gay away" practices. A press release issued by the group reads: Today a horde of gay barbarians descended upon Michele and Marcus Bachmann's "pray away the gay" clinic and demanded that Marcus come out and discipline them for their "deviant" behavior. Marcus Bachmann, who conducts "reparative therapy" at the clinic intended to convert homosexuals, has said that gays are "barbarians who need to be disciplined." The horde requested to speak directly with Bachmann and experience some "discipline" for themselves. When Marcus was no where to be found, the barbarians glittered the empty waiting room and reception area while chanting, "You can't pray away the gay -- baby, I was born this way!" The action was organized by the same young man who threw glitter on Newt Gingrich, starting a national trend in political protest of anti-LGBT sentiments from political candidates and campaigns. "Michele and Marcus Bachmann think gay people are barbarians?" asked LGBT activist Nick Espinosa. "I think its clear to everyone who the real barbarians are, based on the Bachmanns' archaic views on LGBT equality."

Earlier this month, "I'm From Driftwood" featured a video interview with Samuel Brinton, who was raised in rural Iowa and subjected to forced Christian conversion therapy. "We then went into the 'Month of Hell,'" Brinton explained. "The 'Month of Hell' consisted of tiny needles being stuck into my fingers and then pictures of explicit acts between men would be shown and I'd be electrocuted."

This week the psychiatrist who published a controversial 2001 study proclaiming that "highly motivated" gay and lesbian people could change their sexual orientation retracted his initial claims. Psychiatrist Bob Spitzer, who had ironically led the effort to declassify homosexuality as a mental illness in 1973, told American Prospect that he now wants to retract his study, while addressing several of the ample criticisms against its findings. "In retrospect, I have to admit I think the critiques are largely correct," said the 80-year-old Spitzer, who is now retired and suffering from Parkinson's disease. "The findings can be considered evidence for what those who have undergone ex-gay therapy say about it, but nothing more."

The former director of the ex-gay Christian ministry Love in Action came forward last October to say that not only that he is gay, but that he believes it is impossible to change one's sexual orientation. Though Smid admitted he did "experience homosexuality" on the show, he arguably stopped short of embracing his sexual orientation. "I would say predominately, I am attracted to men," he said. "At the same time, I've chosen to be married [to a woman] and a lot of people make that choice."

Richard Cohen, director of the International Healing Foundation and author of "Coming Out Straight" and "Gay Children, Straight Parents," believes that people can change. "There is no credible scientific evidence to suggest either a genetic or biologic basis for homosexual desires in men or women," he said. "So people are not born this way...it's always a confounding of many different factors that lead people to experience these desires...people don't choose this, the choice is: do they want to lead that life, or do they want to change?"

In an appearance on "Dr. Drew" earlier this year, psychologist Joseph Nicolosi -- a founding member of the National Association for Research & Therapy of Homosexuality (NARTH) -- said he continues to support conversion therapy: "People can change, people have a choice, people should be given a choice," he said. "If a person chooses to exercise his heterosexual potential...we provide that therapy...it doesn't work for all people, but it works for some."