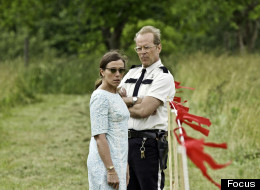 Behold, a Wes Anderson-styled behind-the-scenes featurette from a new Wes Anderson film!
In this exclusive clip from "Moonrise Kingdom," fans get a closer look at tough-guy Bruce Willis in a very non-tough-guy role (a nice local cop named Captain Sharp). Narrated by Bob Balaban, the video shows Willis taking on big actor stuff: Driving! Running! Fake rain! However, that part where he hangs upside-down? That wasn't Bruce. It was -- as Balaban explains -- a stunt double. You can check it all out in the video above.
Set in 1960s New England, "Moonrise Kingdom" tells the story of Sam (Jared Gilman), a young boy who runs away from home with childhood crush Suzy (Kara Hayward). Heading up the rescue effort is Sharp (Willis), Scout Master Ward (Ed Norton), Laura Bishop (Frances McDormand) and her husband, Walt (Bill Murray). The film hits theaters on May 25.
Keep an eye out tomorrow for the second "Moonrise" featurette, debuting over on MTV.com
2012 SUMMER MOVIE PREVIEW: INDIES
2012 Summer Movie Preview: Indie Films
Release Date: May 11 Who's In It? Joel Murray, Tara Lynn Barr What's It About: Bill's younger brother stars as Frank, a terminally ill man who takes his nothing-to-lose scenario and decides to clean up society. Aided by the crazy 16-year-old Roxy, he goes "Taxi Driver" on annoying reality TV debutantes, media loudmouths and people who text in the theater. Why We're Excited: The movie's director, Bobcat Goldthwait, is the king of the dark comedy. If your only perception of Bobcat is "that '80s comedian with the funny voice," then you're missing out on one of the edgiest comedic directors working today.

Release Date: May 18 Who's In It? Maggie Gyllenhaal, Felicity Jones, Rupert Everett What's It About: It's just your usual period piece romantic comedy... about Mortimer Granville, the inventor of the vibrator. Why We're Excited: It's a standard British ensemble: fantastic cast, witty wordplay, skewering of social etiquette... and it's about the invention of the vibrator.

Release Date: May 25 Who's In It? Bill Murray, Frances McDormand, Bruce Willis, Edward Norton What's It About: Two tween lovers run away together during the summer, and their entire New England town mounts a massive search party to find them. Why We're Excited: You don't really have to say anything beyond, "It's Wes Anderson's new movie."

Release Date: June 8 Who's In It? Greta Gerwig, Debra Winger What's It About: Gerwig stars as the eponymous Lola, a young NYC girl that has it all -- until she's dumped by her fiance, a week before her wedding. With her thirtieth birthday approaching, Lola must come to terms with her new single life, through a series of romantic misadventures. Why We're Excited: Gerwig, who's desperately trying to avoid the overhyped "It Girl" label, is adorable and charismatic enough to carry a breezy romantic comedy set in the New York summer.

Release Date: June 8 Who's In It? Aubrey Plaza, Mark Duplass What's It About: Plaza stars as a magazine intern working on the story of a small-town wacko, who put out an ad seeking a partner to help travel back in time. As she gets closer to the man behind the ad, she begins to realize that the mysterious circumstances surrounding him aren't as crazy as they first seemed. Why We're Excited: Plaza's adorably sardonic routine from "Parks & Rec" gets its first starring role. Plus, with a Sundance Screenwriting award in its back pocket, "Safety" proves that time travel is, like, so the hip thing in indie film right now.

Release Date: June 8 Who's In It? Jane Fonda, Catherine Keener, Elizabeth Olsen What's It About: An uptight NYC lawyer gets dumped by her husband and decides to take her two kids upstate for a summer vacation; their destination is grandma's house, and grandma just happens to be a pot-smoking, chicken-raising hippie. Why We're Excited: It's got more than a little in common with last winter's bust "Wanderlust," but the cast for "Peace" is more charming family dynamics than bawdy caricatures. Not to mention, the movie's director, Bruce Beresford ("Driving Miss Daisy"), has been on a career upswing since last year's indie hit, "Mao's Last Dancer."

Release Date: June 29 Who's In It? Emily Blunt, Mark Duplass, Rose Marie DeWitt What's It About: Jack bottoms out with booze after his brother dies, so his best-friend Iris decides to help him detox by sending him to her remote family cabin. But she doesn't plan on her sister Hannah being there, also bottoming out thanks to the end of her long-term relationship. After a drunken fling, Jack and Hannah have to deal with their new complications involving Iris, and Iris's budding feelings for Jack. Why We're Excited: This intimately acted comedy drama has been a big hit at all the top festivals (Sundance, Toronto, Tribeca).

Release Date: June 22 Who's In It? Woody Allen, Alec Baldwin, Penelope Cruz, Roberto Benigni What's It About: Allen's European roadtrip hits Italy, with an ensemble cast caught in a variety of Woody's trademark romantic and social misadventures. Why We're Excited: The cast looks phenomenal (in addition to all those mentioned, "Rome" features Jesse Eisenberg, Ellen Page and Greta Gerwig). Let's just hope Allen's still working off the career high from last summer's indie mega-hit "Midnight in Paris."

Release Date: June 27 Who's In It? Quevenzhane Wallis, Dwight Henry What's It About: The pint-sized Wallis carries the film on her back as Hushpuppy, a young girl living with her father in an impoverished Delta community. When her father's health begins to fail, Hushpuppy's world goes out of whack. Great floods and the appearance of mythical beasts known as aurochs take over her community, as she must learn how to survive without her father. Why We're Excited: "Beasts" was the big winner at Sundance, and without delving into overhype, even the trailer was unlike anything we've ever seen before. It's a family drama with elements of "The Tree of Life" and "Where the Wild Things Are," filled with imagery that invokes the rebuilding of post-Katrina New Orleans.

Release Date: July 6 Who's In It? David and Jackie Siegal What's It About: This documentary, which is sure to become a water-cooler topic, concerns the Siegals, billionaires who made their fortune on the timeshare market. The couple takes their wealth and builds the largest house in America, a 90,000-square foot replica of the Palace of Versailles. Then the real-estate crisis hits; guess what happens next? Why We're Excited: Filmmaker Lauren Greenfield presents the Siegals without irony, and we're very curious to see how non-mansion owning audiences respond to this tale of privilege and the pursuit of the American Dream.

Release Date: July 25 Who's In It? Paul Dano, Annette Bening, Antonio Banderas What's It About: Dano stars as a neurotic novelist crippled by that dreaded writer's block. When he finally receives a burst of inspiration by crafting a story about a wonderful dream girl named Ruby, he's astonished to discover that his story willed her into existence. Why We're Excited: It's been a long seven years, but this is the follow-up to "Little Miss Sunshine" from directors Dayton and Farris. We can't wait to see what they do with the twee romance.

Release Date: August 3 Who's In It? Anthony Hopkins, Jude Law, Rachel Weisz What's It About: The slightly ambiguous thriller links several characters around the world, examining their sexual relationships and how they transgress society. Why We're Excited: Director Fernando Meirelles will always pique curiosity after his American breakthrough "City of God." With an all-star cast and an uncompromising story, it's best to just sit back and let them take you on a journey.