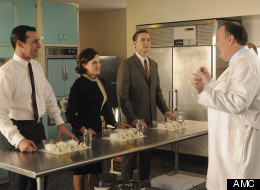 On this week's episode of AMC's "Mad Men," we saw the innocent Rory Gilmore (Alexis Bledel) fool around with Pete Campbell, and Mr. Belding (Dennis Haskins) of "Saved By The Bell" fame popped up as a Cool Whip test-kitchen scientist ... with a few added pounds.
The blast from the past got us thinking about other familiar TV faces who have made appearances on the hit AMC series, which keeps its guest stars list a secret.
From Angela Chase's mom on "My So-Called Life" to Alex Mack herself, Larisa Oleynik, click through our slideshow to see which former small screen stars have had stints on "Mad Men."
In the comments below, feel free to let us know who we missed and which former TV stars who'd you like to see hang around Sterling Cooper Draper Pryce next!
Familiar Faces On "Mad Men"
Alexis Bledel played Beth Dawes in Season 5's episode "Lady Lazarus."

Dennis Haskins played Phil Beachum on the Season 5 episode "Lady Lazarus."

Joel Murray played Fred Rumsen in Season 2.

John Cullum played the owner of Lee Garner Sr., the owner of Lucky Strike, in Season 1.

Cara Buono played Faye Miller in Season 4.

Embeth Davidtz played Rebecca Pryce in Season 3.

Larisa Oleynik plays Cynthia Cosgrove, Ken Cosgrove's wife.

Mark Moses played Duck Phillips in Season 3.

Kevin Rahm played Ted Chaough in Season 4.

Darby Stanchfield played single mother Helen Bishop in Season 1.

Charles Shaughnessy played Saint John Powell in Season 2.

Ray Wise played Ed Baxter in Seasons 4 and 5.

Ray Wise played Ed Baxter in Season 4.

Matt Long played Joey Baird on Season 4.

Madchen Amick plays Don's ex-lover in Season 5.
"Mad Men" airs Sundays at 10 p.m. ET on AMC.