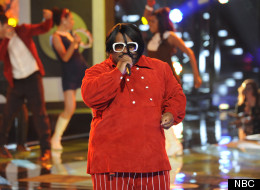 Everyone wants to compare NBC's "The Voice" and Fox's "American Idol," but we think it's no contest. Sure, they're both singing competitions with notable judges, huge talent and even bigger weekly ratings, but that's about where the similarities end.
"The Voice" Season 2 proved that the show isn't just a flash in the pan; this singing competition is in the business of entertaining viewers. "Idol," now in its 11th season, has been trying to shake things up, but with "The Voice" mixing in new elements every single episode, are "Idol's" efforts too little, too late? "Idol" ratings have suffered, especially in the all-important 18-34 demo, while "The Voice" found steady footing with a smart formula: Never do the same show twice.
We've got 12 memorable moments from Season 2 of "The Voice" that prove, without a doubt, that "The Voice" is in it to win it with viewers. From Cee Lo's wigs and Purrfect props to shocking instant eliminations, truly uncomfortable verbal sparring and some hilarious unscripted moments that can only be chalked up to live TV, take a look back at what made this season so entertaining.
(And if you're wondering why there aren't any references to Christina Aguilera's skimpy outfits, avant garde hats, self-tanner overload and general cleavage explosion, that could fill its own gallery.)
In no particular order, 12 crazy, random, memorable, shocking, envelope-pushing moments from "The Voice" Season 2:
"The Voice" Season 2 Most Memorable Moments
Male or female, old or (very) young, Naia Kete's family was full of equal opportunity dreadlockers. Christina complimented the "texture" in her voice, but we were too busy looking at the texture on her head. It's definitely a look ...

She may have been on Team Blake, but this country teen's stage performances seemed far better suited for Team Christina. Here, she "gets rowdy" with "She's Country."

There were two weeks without disk, inappropriately revealing cleavage and bedazzled items on her head and/or face. We were confused, but we have to hand it to her.

Anything can happen on live TV ... including a gas attack. Cee Lo's poorly timed flatulence was the most giggle-inspiring and bizarre thing he did all season -- and this was a season that included countless wigs, disco Cee Lo and a fluffy pet cat.

As if it wasn't bad enough that Tony Vincent was heading home, always encouraging coach Christina Aguilera dug the knife in deeper before critiquing him, saying, "Tony, right? That's your name? Tony?"

Cee Lo's no stranger to over-the-top costumes and performances (we saw a taste of his wig collection last season when he performed "Bright Lights, Bigger City"), but wearing a wig on a night when two other teams are performing? That's just asking for attention ... but if a man in a bowl wig compliments your charisma, I guess you should just take it.

Erin Martin was more than just a pretty face -- she was also a one-tricky pony performer. But that didn't stop her coach Cee Lo from choosing her to advance in the battle rounds ... sorry Shields Brothers!

When all four judges turned around for Jesse Campbell during the Blind Auditions, Cee Lo said he felt like "The Voice" hopeful was "his brother." Also eager to get Jesse on her team -- only to dump him down the line, of course -- Christina said, "I was feeling the soul too, even though I'm not the same color as Cee Lo." But the "Forget You" singer came back with quite the retort for her racially-charged comment: "Everybody's the same color with the lights off."

Like any good Bond villain (or an "Austin Powers" spoof of one), Cee Lo showed his softer side between performances by petting Purrfect the Cat, a white fluffy scene-stealer that was rented from a prop animal house. We're still waiting for the Purrfect t-shirts to go on sale, NBC.

You can sing a sweet Beyonce song, dedicate it to your young daughter who you raise by yourself and absolutely wow the audience -- and the other coaches as "the one to beat" -- but that doesn't guarantee that Christina Aguilera is gonna keep you. Sorry, Jesse! The surprise instant eliminations just didn't work in your favor.

On top of the emotional rollercoaster of being thrust into the spotlight on reality TV, Erin Willett had to deal with the very real tragedy of losing her father during battle rounds. She chose to continue on, singing "We Belong" to survive, and after the performance, she let herself break down: "This was for my dad, and I just wanted to make him proud."

Something must have happened during their Micky Mouse Club days because the tension between these two former Disney stars has been palpable throughout the season. Christina Aguilera didn't even remember Tony Lucca when he first auditioned for "The Voice." She then criticized her fellow former Mouseketeer for getting props from Justin Timberlake to make up for the fact that "there are just better voices on the show." Later, she said his version of Jay-Z's "99 Problems" in the finals was "derogatory to women" and then called her finalist, Chris Mann, "a real man."