We can't all be glamorous all the time. Even when "we" are Beyonce.
On Monday night, Beyonce went full-on glam for the Met Gala 2012. (We were there to see Bey make her tres grand entrance, strolling in on the arm of Andre Leon Talley thirty minutes after the red carpet had officially ended and decked out, of course, in that fabulous and very sheer Givenchy lace dress).
But on Tuesday night, Beyonce scrubbed off the makeup and attended a low-key soiree at the house of her friends Antonio "L.A." Reid and Erica Reid, along with her hubby Jay-Z, who had skipped out on the Met Gala.
Feting the release of Erica Reid's parenting advice book The Thriving Child, the 30-year-old singer and new mom herself kept her look simple, opting for a classic teal dress and hoop earrings to pal around with other guests, including Mary J. Blige, at a private residence in New York.
Also making us swoon: an adorable pic of Jay-Z playfully touching his wife's face. Is there a Tumblr exclusively devoted to Bey-Z PDA yet?
Beyonce recently told People that she does her own makeup and cuts her own hair -- and as much as we love her in no-holds-barred glam, we might even dig the natural Beyonce a teensy bit more. Rumor has it her husband does, too.
Check out photos below!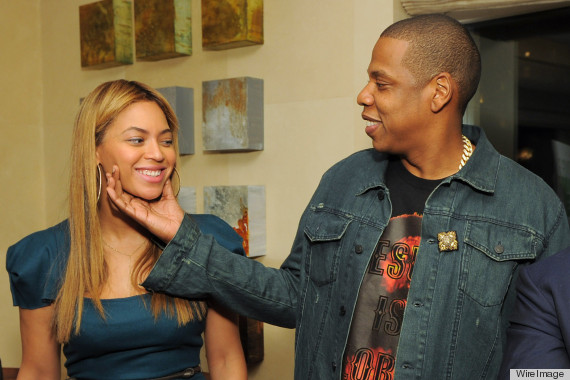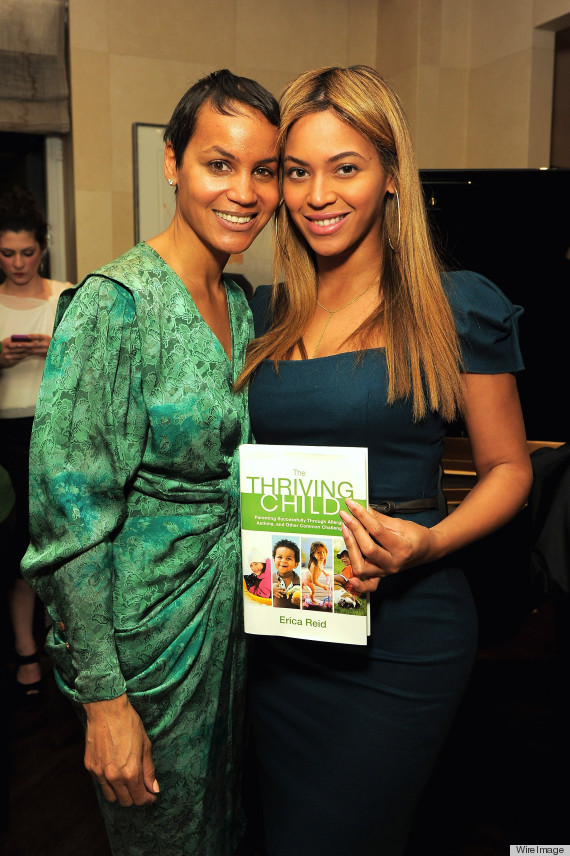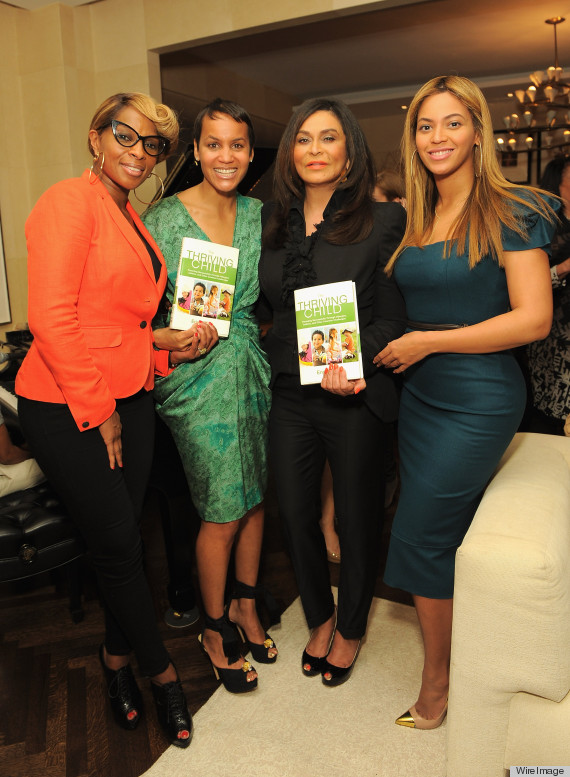 See some celebs who went totally makeup-free below!

Loading Slideshow
Demi Lovato

Britney Spears

Krysten Ritter

Claire Danes

Kate Moss

Rachel Hunter

Katy Perry

Jessica Stam

Selma Blair

Rita Ora

Fergie

Tilda Swinton

Paris Hilton

Rosie Huntington-Whiteley

June 2011

Mila Kunis

April 2012

Brooke Shields

October 2012

Brooke Shields

August 2011

Jessica Simpson

Cameron Diaz

August 2011

Jessy Schram

Britney Spears

September 2011

Sarah Jessica Parker

October 2011

Ellen Pompeo

July 2011

Ellen Pompeo

January 2012

Kate Hudson

August 2011

Ciara

August 2011

Minka Kelly

April 2011

Kate Moss

September 2011

Kate Moss

September 2012

Kate Moss

September 2012

Zoe Saldana

September 2011

Liv Tyler

September 2011

Janice Dickenson

Liv Tyler

November 2011

Busy Phillips

Halle Berry

September 2011

Jennifer Love Hewitt

October 2011

Jennifer Love Hewitt

April 2012

Elle Fanning

October 2011

LeAnn Rimes

LeAnn Rimes

October 2012

Salma Hayek

October 2011

Uma Thurman

October 2011

Marion Cotillard

November 2011

Hilary Duff

October 2011

Maria Bello

November 2011

Lala Vazquez

November 2011

Kim Kardashian

November 2011

Snooki

October 2012

Goldie Hawn

October 2012

Amber Valletta

March 2013
Want more? Be sure to check out HuffPost Style on Twitter, Facebook, Tumblr and Pinterest.
Also on HuffPost: