Designer Todd Oldham has worn many hats over the years: Fashion designer, extreme DIYer, mentor on Bravo's Top Design series to name a few. Now, Oldham's adding toy designer to his resume with his new Kid Made Modern collection for Target, which features DIY craft kits and art supplies. And it's even caught the eyes of two mini experts, Ruby and Lola, who are the daughters of editor-at-large Ingrid Abramovitch over at Elle Decor magazine. So, will Generation Z (is that what they're called?) go for Oldham's decidedly retro-inspired collection? Scroll down to see.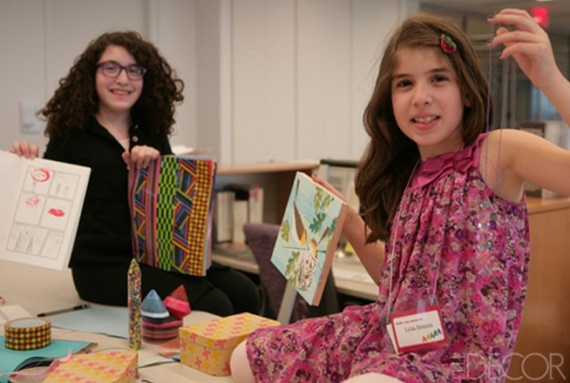 Photos by Alexandra Brawley, courtesy of Elle Decor
It seems that Ruby and Lola (ages 11 and 9, respectively) took things pretty seriously when it came to crafting with Oldham's supplies, which included patterned duct tape, a jewelry-making kit, a paint-by-number set and bright crayons. They enjoyed using the duct tape to make fun notebooks and to decorate a headband with geometric shapes, but they thought the color-by-number kits were just a little shy of perfect. "It was a little bit hard to control and they didn't give enough paint in each color, but our paintings still came out great," they said.
We've always been fans of Oldham's slightly quirky aesthetic and we can definitely see this in the new 'Kid Made Modern' line. But, we wish that Target would let him revisit his 'Home Room' collection from 2003. Oldham's 70s influences feel a bit lost on our youngest generations -- but nostalgia is always appealing to us. So, Target, please let Oldham play with the grown-ups...
To find out more about what Ruby and Lola thought of the rest of Todd Oldham's Kid Made Modern Line for Target, head over to Elle Decor.
Have something to say? Be sure to check out Stylelist Home on Twitter, Facebook and Pinterest.
Also Watch: