 On Spotify, you can find music by Loverboy, or you can find a lover boy by music.
The popular music streaming service has released two new apps that assist not with music discovery but with people discovery. The apps, fellody and Tastebuds, both work similarly: After you sign in with Facebook or with a unique username, the applications scan through your music library to find your favorite artists and songs; you are then presented with profiles of other Spotify users with similar tastes in music.
You can refine your matches based on desired gender, age, location. Both Fellody and Tastebuds have functions that allow you to send messages to your potential matches; fellody also comes with a "Flirt" button, which notifies the flirtee that you are flirting with him or her, a little like the old Facebook Poke button.
Below, check out fellody, and two of my highest matches within 220 kilometers on there (apologies to my girlfriend, whom I would never cheat on via social music service app or otherwise). As you can see, Fellody spits out a compatibility score, the musical artists you have in common, a profile photo of your match, and your match's age and Boston. From there, it's up to you to make a move by either hitting the flirt button or actually composing an introductory message: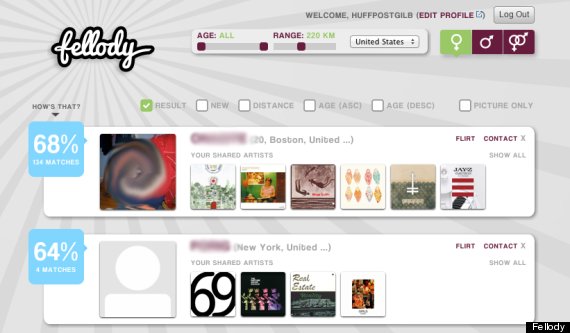 And here, once again with apologies to my lovely girlfriend, are my results on Tastebuds. Tastebuds profiles are a bit more robust and customizable; users can write a little about themselves, manually input their favorite artists, and upload multiple profile photos. Tastebuds also displays, specifically, which songs you and your potential match have enjoyed recently (conversation starter?):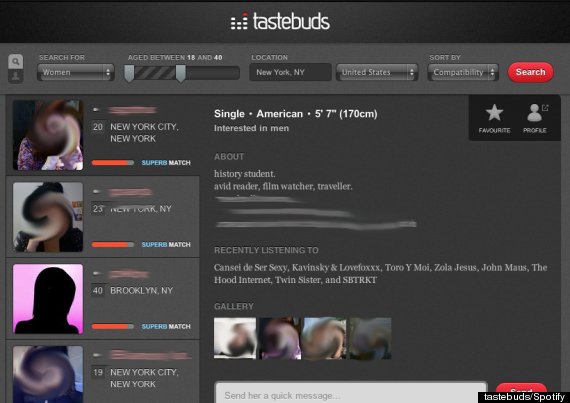 Will we start seeing Spotifiancees in the same way we've seen couples meet via Words With Friends? That's the aim, apparently. Personally, I'm not sold on the names of these Spotify dating apps: "fellody" recalls a sex act once illegal in Alabama, while "Tastebuds" will always remind me of an infamous song by King Khan that has some of the lewdest, most sexually-perverse lyrics I've ever heard.
But that's a personal hangup, I'm sure. This seems like a positive step forward for Spotify, at the very least, in the company's quest to become the operating system for music listeners, a lofty goal that CEO Daniel Ek recently announced, apropos of the much-hyped launch of its app ecosystem back in November.
Six months later, these two apps are Spotify's first that don't deal explicitly with learning about or discovering new music. Whereas before you could use Spotify's apps to get the lyrics to your favorite song, or find recommended artists, now you can get a date for Friday night, or flirt with a cutie with a booty who loves Tutti Fruiti.
Uh, or something like that. You can add fellody and Tastebuds to your Spotify desktop player and start flirting now. And check out our favorite Spotify apps from the initial launch below:
The Best New Spotify Features
Moodagent is a playlist creator. The team at Moodagent has crawled through each and every song in Spotify's 15 million track library and rated the tracks based on how Sensual, Tender, Happy and Angry each is. You can create a mood-based playlist several ways with Moodagent -- first, by pressing one of the four mood icons at the top and letting random songs populate the list; second, by entering the name of a track or artist and allowing Moodagent to discover 20 to 25 songs with a similar mood; third, by dragging any of your favorite songs into Moodagent and having it create a list; and fourth, by dragging in a playlist you've made outside of Moodagent and letting the app sort the playlist from happiest to least happy, most sensual to least sensual, etc. Above is a playlist created from the (rather sad) song "Carolina" by Girls; the line graph shows the fluctuations in happiness as the playlist goes on.

Perhaps the most beautiful of the new Spotify apps, We Are Hunted is a music recommendation engine that breaks music into several searchable categories: 1. Emerging Chart: The 99 most popular songs by emerging artists, ranked in terms of their popularity on We Are Hunted. 2. Mainstream Chart: The 99 most played songs by Mainstream Artists. 3. Genre Chart: The 99 most played songs in seven genres. 4. Instant Playlist: Enter an artist and have a custom 99-song-long We Are Hunted playlist made just for you. Above, a playlist based on my love of The Avalanches. A great HTML5 design by the Australian team at We Are Hunted makes this app a rich and rewarding music discovery experience on Spotify.

The iconic music and culture magazine Rolling Stone comes to Spotify as an app. It will pair its reviews with playable versions of the songs and albums being reviewed. The app is built with four tabs: Recommended songs, Recommended albums, All reviews and Playlists. The Playlists tab contains curated and playable versions of irreverent Rolling Stone countdowns like "The 100 Greatest Guitarists of All Time," "The Songs That Shaped ?uestlove" and "Tom Petty's Top Elvis Songs."

Soundrop gives Spotify a bonafide social listening service -- a room where you can listen to playlists with friends and strangers around the world. You can either start your own room for private listening or join a public room to hear music in a certain genre or on a certain theme. Once you are in a room, you can chat with other people who are listening in a small chat window or give your vote to the song you want to hear next. Above, I'm in the "Indie Wok" room (the room for indie music), along with two dozen or so new friends. We're listening to some Two Door Cinema Club, and it's a tight race between M83, Mumford & Sons and James Blake for who will be played next. M83 won, for those curious.

TuneWiki is a Spotify lyrics finder and karaoke machine -- simply play a song and click on TuneWiki to see the lyrics of that song. And you don't even have to scroll as the song plays; just sit back and watch the lyrics scroll for you, along with the music, as they are sung. If a song doesn't have lyrics, you have the option to add lyrics right from Spotify. If the song has lyrics wrong, you can Wiki it up and edit those lyrics. The scanning of lyrics in time with the music depends on user input, so if a song hasn't been "synced" yet, you can do that, too, by listening to the song and pressing a key on your keyboard as each line is sung. Super easy (and pretty addictive, too!)

The beta version of Spotify doesn't just have apps -- it also has Instant Search results in the search bar. Much like Google's AutoComplete, Spotify now predicts songs, artists, playlists and albums you may be looking for based on the first few letters you type. Here, I'm looking for "A Milli" by Lil Wayne, and Spotify found it -- fourth result from the top).

Hipster indie music site Pitchfork has a Spotify app, too, and it looks great. You'll be able to read current track and album reviews while you listen to the music, and a Pitchfork staffer told me it will be updated twice daily along with the website. The app has three tabs -- one for the LPs that earn the coveted "Best New Music" stamp from the website; one for all of the music that the site reviews, both good and the bad; and another for Playlists, both the end-of-the-year countdowns and those massive Best of the Decade playlists the magazine has published. Above, I'm reading the Pitchfork review of the new Real Estate album and listening to the intro track, "Days."

Songkick scans your music library and playlists and lets you know when the artists you like are playing shows in your city. You can also listen to popular songs from each artist within the app, and Songkick gives you a link to an external website to buy concert tickets if you're ready to mosh. Above, perhaps I'll check out The Roots in December. I do like their song "The Fire"!

Last.fm, that old music-discovery standby, can track every song you play on iTunes, Spotify, Rdio or wherever, and then spit out recommendations to you based on your tastes. The Last.fm app has an overview of your listening habits, artist info about the track you're playing and a whole bunch of recommendations, all within the Spotify desktop player. Above, I'm checking out Veronica Falls, which Last.fm says fit my tastes (and hey, I do like 'em!).