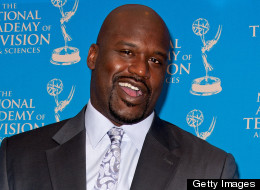 Hello? Shaq calling.
The Lakers legend will be canvassing Los Angeles county with robocalls on behalf of current LA City Attorney Carmen Trutanich, who is running to become District Attorney.
Banking on his experience as a dad and a reserve police officer (is there anything he can't do?), Shaq endorses Trutanich as the only person who can keep children away from gangs. Add the fact that Shaq recently earned a doctorate degree in education from Barry University in Orlando, Fla., and this seems like a really informed endorsement. Too bad he doesn't actually live in Los Angeles anymore.
Listen to Shaq's robocall or read the full text here:
Hi, this is Shaquille O'Neal asking you to join me in supporting Carmen Trutanich for LA County District Attorney. Who's Carmen Trutanich? He's the only man I trust to work with our kids to keep them safe at school and away from gangs. Carmen Trutanich wants to prevent crime by providing more after school, job training and apprenticeship programs. Trust me. I don't get involved in politics very often. But, as a Father and police officer, when it comes to our kids, I'm going to get involved. You should too by voting for Carmen Trutanich for District Attorney. Thank you for your time.
Trutanich could have the luck of the Irish in Shaq. The former Boston Celtics player also endorsed Trutanich's campaign for City Attorney back in 2009 with the same line: "the only man I trust to work with our kids to keep them safe at school and away from gangs."
A rep for Trutanich's campaign told The Huffington Post that registered voters in Los Angeles County can expect the robocall today, although it's unclear right now whether they'll continue to deploy it later on in the race.
Click below for a few of our favorite Shaq-isms, deliberate and otherwise:
"I've won at every level, except college and pro." -Shaquille O'Neal, before winning an NBA title

"I can't really remember the names of the clubs that we went to." - Shaquille O'Neal on whether he had visited the Parthenon during his visit to Greece

"The print media, they gonna hype it up. NBC's gonna hype it up. ESPN's gonna hype it up. The China stations gonna hype it up. Yugoslavia stations gonna hype it up. Everybody's gonna hype it up and we'll be the most televised watched game in the history of all sports." -- Shaquille O'Neal on the Heat-Lakers game. There hadn't been a country called Yugoslavia since 2003.

"My game is like the Pythagorean theorem, no one has an answer." - Shaquille O'Neal The Pythagorean theorem is a2 + b2 = c2.

"The people that know me, they know what time it is and they know what The Diesel is coming to do. Period. P-U-R-E-D. Period." - Shaquille O'Neal about his basketball abilities

When applying for the Miami Beach Police Department, he wrote the following when asked about special skills and equipment: "Laptop computer, binnochulars (sic), master of surveillance."

Shaq miscalculates his free throw percentage in this exchange with Charles Barkley: Shaq: "18 for 39 is over 50 percent." Charles Barkley: "Dude!" Shaq: "18 plus 18 is 36, and I went 18 for 39... you're right, my bad."