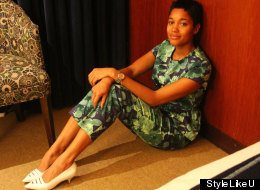 Tamu McPherson is one of our favorite style stars and we're obsessed with following her fashion-filled snapshots on Instagram. So, we were super psyched to find out she was recently profiled by StyleLikeU.com!
The Milan-based editor-in-chief of Grazia.it and street style blogger for "All The Pretty Birds" opens up about her journey from working in law to making it in the fashion industry.
"At a point one of my really close friends said 'Tamu your spirit is not in law. It's in fashion. You have to go work in fashion.'"
She certainly made the transition -- moving to Milan and learning Italian in five months -- and in turn has made an indelible mark within the field.
Tamu also reveals the magic behind her chic bet quirky style. She mixes Italy's emphasis on elegantly tailored pieces with the mix-and-match sensibility she loves about New York City. Plus, Tamu loves a kitten heel -- "they are really cute and practical when I'm shooting street style."
Don't you love a gal with unique (and sensible) style?
To hear more, watch the video below and check out the slideshow of our favorite style Instagrammers:

Fab Fashion & Beauty Instagrammers
Who: June Ambrose, celebrity stylist and star of VH1's "Styled By June" Why: She takes us into her Juniverse where she is single-handedly restoring swagger to the swagger-less and showing us what it looks like to be a super stylish and successful working mom.

Who: Gabrielle Gregg, blogger of GabiFresh.com Why: She confidently shows off her killer curves in swoon-worthy ensembles and is just hands-down fierce.

Who: Whitney aka Naptural85, blogger and vlogger for Naptural85.com Why: We love checking out her marvelous mane, healthy lifestyle and snapshots from her fun-filled days.

Who: Celia Smith, fashion editor at Essence.com Why: Check out how this pretty lady pulls together her fab stories for Essence.com and how equally stylish her real life is. We're hooked!

Who: Tracee Ellis Ross, actress and star of BET's "Reed Between The Lines" Why: She's drop dead gorgeous...super inspirational...and is Diana Ross' daughter. Need we say more?

Who: Karen Blanchard, blogger of WhereDidUGetThat.com Why: We can't get enough of Karen's drool-worthy fashion finds and we're completely inspired by her personal wardrobe.

Who: Christina S. Brown, blogger of LoveBrownSugar.com Why: There is so much to love about this lady--she's a fashion insider with plenty of sass and loads of style.

Who: Janell Hickman, Gilt Groupe Why: If you love all things beauty, then you'll love all things Janell. This gorgeous lady keeps us up to speed on all the best beauty buys.

Who: LaQuan Smith, fashion designer Why: This talented fella's designs have graced the likes of Rihanna, Nicki Minaj and Lady Gaga (Just to name a few). Needless to say his pics are epic.

Who: Kela Walker, style maven and TV host of NYCTV's "That's So New York" Why: Kela treats us to a daily dose of her style in her #whatiworetoday series and we can't think of one day where we didn't love her look.

Who: Rachel Roy, fashion designer of Rachel Roy and Rachel Rachel Roy Why: Take a peek into to Rachel's world of design, philanthropy and raising her two beautiful daughters--all while inspiring us with her amazing designs.

Who: Felicia Walker Benson, blogger of ThisThatBeauty.com and social media beauty editor for Bergdorf Goodman. Why: She's the ultimate beauty buff and happily shares her obsession with witty and wonderful pics.

Who: Daisy Lewellyn, style expert Why: They don't call her the "The Queen of Effortless Chic" for nothing--we love following this lady through her fab-filled days.

Who: Tamu Mcpherson, street style photographer of AllThePrettyBirds and former editor-in-chief at Grazia.it Why: We're hooked on our behind-the-scenes look at how this lovely lady produces one of our favorite fashion sites. Plus, we really dig her personal style. Win, win!

Who: Joy Adaeze, blogger of JoyLovesFashion.com and stylist Why: Joy's passion for fashion is infectious and her eye-catching style will keep you thoroughly entertained.

Who: Alicia Keys, Grammy Award-winning music artist Why: Who wouldn't love a glimpse into Alicia Keys life? She shares pics from her glam nights out and even when she's working hard at the gym.

Who: Folake Huntoon, blogger of StylePantry.com Why: Peep this style maven's pantry full of pretty. Her bold and beautiful outfits make us smile.

Who: Claire Sulmers, blogger and vlogger of FashionBombDaily.com Why: From fab parties to pounding the pavement to discover the best fashion finds, this lady takes us with her every step of the way.

Who: Ty Alexander, Blogger of GorgeousInGrey.com Why: First of all we love her salt-and-pepper hued hair and we definitely love her eye for sensational style.

Who: Shirley B. Eniang, blogger and vlogger of Meek-N-Mild Why: This lovely Londoner snaps pics of all her favorite things--including (but not limited to) awesome nail art, fantastic hair 'dos and killer shoes.

Who: Christian Law, blogger of FresherThanChris.com and stylist Why: Chris definitely serves up the style for dapper dudes everywhere, but he also knows what's hot when it comes to the ladies.

Who: Saneeta Renee, blogger of ChicInspector.com Why: Follow this lady on her daily adventures in the fashion capital of the World (aka New York City).

Who: Kristen Turner, blogger of GlitternGlue.com Why: You'll want to break out the crafts after seeing all this chick's self-made fashion items. It's DIY to die for.

Who: Taren Guy, vlogger of "Taren916" and blogger for Carol's Daughter Why: Tons of style from head to toe. We love her curly tresses and chic ensembles.

Who: Julee Wilson, style and beauty editor at The Huffington Post Black Voices Why: Get to know the gal behind all the fashion and beauty fun we delivery everyday here at BV.

Who: Huffington Post Black Voices Why: We recently started this account to give our readers a chance to get to know our editors and see how we produce the site. Come along on the ride! Note: The pic is from a recent visit from actor Boris Kodjoe to the Huffington Post NYC office. Swoon!