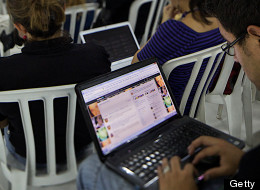 Every so often we're pulled into a live stream of tweets that broadcasts an event play-by-play on Twitter. Most recently, a Houston hospital live tweeted a brain surgery -- complete with photos.
Usually the events are relatively high-profile -- it seems like almost everyone live tweets the Oscars and the State of the Union. But sometimes we get hooked on a feed of live tweets that are so odd we wonder why anyone would have the gall to send the 140 characters out into to the world.
Take the National Zoo's recent panda insemination, for example. It's an interesting social media campaign, but it certainly made for some colorful and bizarre tweets. Imagine arriving near the end of that conversation.
Live tweeting dates back to the early days of Twitter, which debuted in 2006, but didn't really take off until a few years later, around the same time how-to guides started popping up online. Music fans, doctors and journalists jumped on the opportunity to capitalize on their social media presence while also providing explicit details in traditional live broadcast fashion.
Like live blogs, live tweet feeds tend to focus on coverage of widely recognized events. However, two subsets have emerged: behind-the-scenes tweets, such as the backstage happenings concerts or award shows, and live reactions -- Aziz Ansari recently live tweeted his reaction to the "G.I. Joe Retaliation" trailer.
Although some types of events are a bit overdone -- looking at you, live tweeted marriage proposals -- there's certainly room for fresh ideas that haven't been tried before.
Has anyone live tweeted while skydiving? Not that we know of -- if that's even possible. Don't do that. Seriously.
However, we are interested in seeing some original ideas. So we propose this challenge: come up with an amazing live tweet idea and put it into action. Remember to tweet @HuffPostTech so we can follow along.
In the mean time, check out the gallery to see our selection of ten surprising events that were live tweeted.
Surprising Live Tweeted Events
In 2011, one of Osama Bin Laden's neighbor's Sohaib Athar unwittingly live tweeted the raid that led to Bin Laden's death.

On April 30, one lucky onlooker live tweeted the artificial insemination of the female panda Mei Xiang.

On May 7, a Moscow journalist live tweeted his own arrest during protests of the inauguration of Vladimir Putin as president of Russia.

This may not qualify as real live tweeting since the Titanic hit an iceberg 100 years ago, but it's pretty close. The Twitter account, created by the History Channel, provided minute-by-minute tweets of the Titanic's disastrous voyage in remembrance of the 100-year anniversary of the event.

Houston's Memorial Hermann Northwest Hospital became the first to live tweet an open-heart surgery on February 23.

White House reporter Tommy Christopher took to Twitter during his heart attack and live tweeted the onset and aftermath.

In 2011, web developer Andy Boyle decided to live tweet the breakup of a couple who was seated at the table next to his in a Boston Burger King. The series of live tweets later sparked a Twitter debate about the ethics of publicizing a breakup through social networking.

In 2010, 27-year-old Florida resident Angie Jackson live tweeted her own abortion after taking RU-486, a pill that induces miscarriage, in order to demystify the termination of a pregnancy. She explains why in the video above.

Arizona Cardinals Defensive End Darnell Dockett live tweeted his traffic stop in 2011.

This live tweet stream makes the list not for its following (or for making the history books), but for its humor. Reuters senior opinion writer Chadwick Matlin chose to live tweet a Park Slope Food Co-op meeting, capturing the many colorful responses of his neighbors.