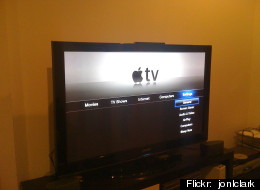 In an interview with his biographer Walter Isaacson, the late Steve Jobs claimed that Apple had "cracked" the television set. There's been a lot of speculation since then about what this mysterious "crackage" could consist of, and now there is bound to be even more: The so-called "iTV" is apparently totally real and set to enter production soon, according to an executive at one of Apple's largest suppliers.
Yeah, the Apple television is real, as Foxconn CEO Terry Gou told China Daily that his company is preparing for production of what the Chinese paper calls the "iTV." Though the article does not say when production will begin, or when we can expect a release date, the China Daily did make some predictions on the features of the upcoming iTV, speculating that Apple's television set will feature an aluminum body, voice control via Siri, and FaceTime calling, with a front-facing camera embedded at the top of the television's frame.
(NOTE: Sounds a lot like Samsung's SmartTV, which features video-calling, voice control, and an aluminum finish. Let the lawsuits begin!)
We've long known that Apple has been tinkering with a television set -- Jobs' "cracked it" quote confirmed that -- but no one really knew when it would come out, or what phase of production Apple was in, or if Apple would even release one for consumers. Apple, like all technology companies, builds plenty of prototype devices that never see the light of day in retail stores.
That hasn't stopped rampant speculation, however: Analysts following Apple have thrown out all kinds of release dates and manufacturing predictions over the past several months, with forecasts for release from summer 2012 to some time in 2014. The most common prediction is that Apple's TV set will land in winter 2012, or just in time for Christmas. If Foxconn begins production soon, and all goes well, that timeframe sounds realistic.
Elsewhere in Apple television rumorology this week, Apple site Cult of Mac claims that a source of theirs has seen a prototype of the Apple television. Cult of Mac's source mostly echoes China Daily's report on specs and features, report that the television has Siri, a built-in camera for FaceTime video calls, and capability to stream your content from iPad, iPhone, or MacBook onto the TV screen. CoM's source was unnamed, and Cult of Mac didn't specify how their source might have seen the prototype.
An Apple spokesperson declined to comment on rumors and speculation.
For more rumors and speculation on what's coming up for Apple, however, you can check out our latest edition of This Week in Apple Rumors! It's HuffPost Tech's weekly look at all the Apple rumors that are fit to print (and also some that aren't). Brush up on those below:
This Week In Apple Rumors: iLounge's iPhone 5
This is what the next iPhone is going to look like, according to -- wait, can this be correct? -- someone with a really good track record of predicting these things! iLounge's Jeremy Horwitz has indeed been super accurate in the past -- check out his inside info on the new iPad 3 just before it released in March; also, watch him tell everyone in September that the iPhone 4S would NOT be redeisgned and would instead resemble the iPhone 4 in form factor. The man knows his Apple! Which is why we're paying close attention to what Horwitz thinks the next iPhone will look like: Four inch screen, and a bit taller, with a smaller connector for the charger. Yeah, that's right: Horwitz thinks Apple will change up the size of the port for the charger. If he's right, that means you can count on buying new accessories, car chargers, speaker docks, etc. for your older iDevices in...oh, five months or so, if the October release date everyone's counting on turns out to be correct. For more on the next iPhone -- and rumors of a new iPod Touch -- check out Horwitz' prediction-packed column at iLounge. And now, let us return to SillyTown with some of the more ridiculous Apple rumors of the week. Nothing -- and I mean nothing -- could be sillier than this one...

Just when you thought no Apple rumor could possibly be dumber than last week's item about what is supposedly the next iPhone's home button, here comes a rumor that is looking to out-dumb the Dumb King and wear the Dumb Crown on the Dumb Throne: Look at this picture: Could this be the iPhone 5's SIM Card tray? How incredible would it be if it was? Would anyone ever be able to catch Apple if this really was the SIM Card tray in its next iPhone? Pack up your things, Samsung and Nokia. Apple's got a killer SIM Card tray coming in its next iPhone. Resistance is so futile that competing smartphone manufacturers might as well blow up their own buildings and sell the scrap metal for cash. (For those who care, the supposed iPhone 5 SIM tray comes from parts seller SW-box.com, and I was made aware of it by the MacRumors article headlined "Claimed iPhone 5 SIM Card Tray Appears Identical to iPhone 4S"). Let's move on: To the Apple television, which might come out later than expected... Much later.

Most analysts who follow the rumored Apple-branded television set believe that Cupertino's TV set will come out either in time for Christmas 2012 or shortly thereafter, at the beginning of 2013. But here's some ice water to cool you off: JP Morgan analyst Mark Moskovitz opined in a letter to investors that the so-called "iTV" won't be ready until 2014; he believes that the television will come with Siri and gesture control and a more user-friendly Apple-designed user interface. The gesture control and the Siri and the redesigned interface are all pretty common predictions; the 2014 thing is not. Apple supposedly already has prototypes of this thing floating around -- how long can it be until an Apple engineer accidentally leaves one in a San Francisco bar? -- and we've heard that the thing is going into mass production as soon as this summer. Moskovitz, obviously, disagrees, though he doesn't say where he gets the 2014 date from. Perhaps from a hat? Let's say a hat. Speaking of hats (not really though), we had a rumor two weeks ago that the next iPhone might be made of "liquid metal." Sorry, Terminator 2 fanatics, but it doesn't look like that's happening anytime soon, either...

Some sad news from Business Insider, as an interview with Liquidmetal inventor Atakan Peker has revealed that new Apple products will not be made of magical liquid metal, which I can only assume is exactly like the stuff the bad guy in Terminator 2 morphs into. Actually, liquidmetal is a kind of beautiful, strong, scratch-resistant amorphous metal alloy that Apple bought some patents from back in 2010. Peker tells BI that he doesn't expect Apple to use it in devices any time soon; rather he expects them to use it in a "breakthrough product" at some point in the future. Once again, I'm going to predict this "breakthrough product" is the ability for humans to morph into a puddle of iTitanium, to launch in 2016. Right after the Apple television. That's all for this edition of This Week In Apple Rumors. Make sure you check back next week, when I will be writing this column as a goopy mass of metallic alloy, eyeballs, and fingertips. And if you can't wait one week for your hysterical Apple rumormongering fix, you can get up to the minute Apple rumors by following me on Twitter here.