Off all the facial piercings out there, we suppose we're most onboard with those chic little nose rings. Miley Cyrus is too, having gone with her dad to get a small stud in her nose in 2009.
But apparently she decided it was time to bring it back. x17online.com snapped pics of Miley, who turns 20 this year, with a brand new nose ring: a small gold hoop.
We're ambivalent about the hoop style, considering it's not a common sight these days. Off the top of our heads, we can think of two people with similar bling: Ke$ha, who showed off her hoop nose ring on her debut album cover and, well, Lenny Kravitz, who's been rocking it for years.
The hoop is a new look for Miley, along with her recently lightened ombre locks. Check it out below and see more photos at x17online.com -- are you a fan?
PHOTO: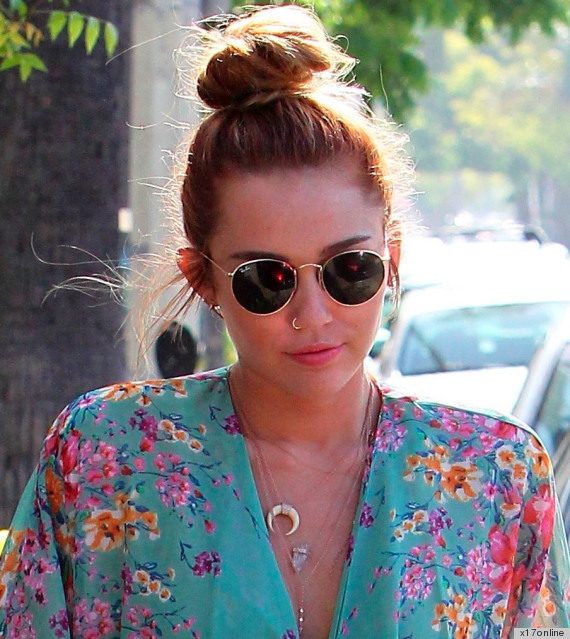 See more under-20s who've gotten pierced:
Shake It Up star Bella Thorne took to Twitter to show off her new second ear piercing in December.

Demi has multiple piercings including her nose, belly button, and several in her ears.

Instead of choosing between piercing his left or right ear, Justin Bieber decided to piece both!

Kesha is known for going all out when it comes to her outfits. In keeping with her eclectic and unique fashion sense, Kesha also likes to rock a nose ring.

American Idol winner Jordin Sparks has a super-cute nose piercing. When she's posing on the red carpet, Jordin often accessorizes her look with diamond stud.

While out on a shopping spree, Aly and AJ spontaneously decided to get matching belly button piercings. The sisters tweeted about their piercings: "It didn't hurt too bad. It was about a 6 from a 1 to 10 scale. Xo aly" "I think it was a 7 or an 8 on the pain scale Xo AJ" CORRECTION: A previous version of this caption incorrectly identified Aly and AJ as twins.

From the beach to a basketball game, Vanessa Hudgens isn't afraid to show off her belly button piercing.

After Miley posted a photo of herself on her Twitter showing off a new nose piercing, many questioned whether or not it was in fact real (it is). This isn't Miley's only piercing -- she has a total of six, including a hole in each ear, a naval piercing, a nose ring, and a cartilage ring.