New York Times: 'NoPa Is Poised To Become The Next Mission' (PHOTOS)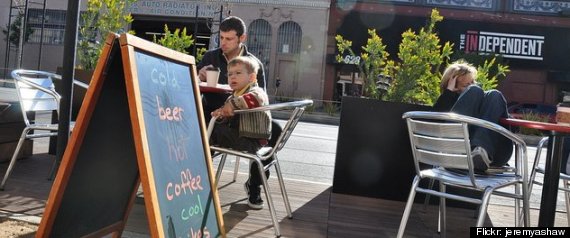 Every so often, someone from the New York Times will bravely fly over the vast majority of the county, land in the San Francisco Bay Area and officially declare some part of it to be "The New Somewhere Else."
Like when Oakland officially became the new Brooklyn after the Times listed the the East Bay city as the 2012 number five worldwide travel destination.
(SCROLL DOWN FOR PHOTOS)
It's a win-win-win situation: the Times writers get to feel like they're on an anthropological expedition without having to go somewhere without expensive coffee shops; San Franciscans get to feel like their neighborhoods are so important that people who have never even been to the Bay Area should hold strong opinions about them; readers from the rest of the country get to experience the profound, existential regret that comes from realizing the one time they visited San Francisco and spent their entire vacation within five blocks of Fisherman's Wharf was a huge waste of time.
It's the circle of life and it moves us all.
In an article posted to its website earlier this week, the Old Grey Lady penned an ode to NoPa, declaring the District 5 'hood as "poised to become the next Mission--just leafier and more low key.":
Rents are rising, retail options are evolving, and the neighborhood is expanding up, down and around Divisadero Street. Check-cashing joints have become trendy salons; landscaped parklets and do-it-yourself schools have cropped up; and artisanal pies and pizza are making a Popeyes look increasingly out of place.
SFist editor and leading member of the NoPa-ratti Andrew Dalton took offense to the article casting aspersions on his neighborhood's premiere fried chicken restaurant franchise . When asked if Popeye's really is out of place, he answered, "Not at all, it provides balance. Also cheap lunch on Tuesdays."
While the article mentions that the name NoPa is derived from a trendy restaurant that moved into the area almost a decade ago, it doesn't mention the controversy surrounding that name. Most neighborhood old-timers (freelance graphic designers who moved in prior to 2005) would rather die than call it anything other than the Western Addition.
Suggestion: if they're going to name the neighborhood after a restaurant, they should just call it Popeye's.
This article isn't the first time NoPa has gotten some love recently. Last year, the Neighborhood Empowerment Network labeled it the "Comeback Neighborhood of the Year."
Check out this slideshow detailing some of the our favorite places in NoPa:
Loading Slideshow
Nopa

How many restaurants can say they have an entire neighborhood named after them? Not many, because the Cow Hollow Empanada And Used Polo Shirt Emporium is something I just made up. Founded in 2006, NoPa's (a nod to being "<em>No</em>rth of the <em>Pa</em>nhandle") name has expended to reference much of the area surrounding area, leading many to levy charges of the California-style restaurant being over-hyped. Don't believe the haters; one taste of NoPa's maybe-best-in-the-city burger is more than enough to consider broadening the definition of what constitutes NoPa as far north as the Golden Gate Bridge. Flickr photo by <a href="http://www.flickr.com/photos/sanfranannie/2313128731/sizes/z/in/photostream/" target="_hplink">SanFranAnnie</a>

Divsadero Parklet

What's not to love about parklets? The conversion of one or more parking spaces into a small, outdoor, public park complete with greenery and seating comes with wonderfully satisfying feeling of making the poor sucker endlessly circling the block in a Honda Civic regret having a car city just a little bit harder. The parklet on Divisadero between Hayes and Grove is one of the first, and nicest, in all of San Francisco.

Little Star

There are a lot of ways to start a riot in Oakland but one of the easiest is to go up to any die-hard Oaklandite (make sure they're wearing an "I Hella Heart Oakland Shirt") and proclaim, "Little Star is better than Zachary's." What follows won't be pretty. The secret to the cult-like following of San Francisco's premier outpost in the trans-bay pizza wars is its buttery, delicious crust and always-fresh toppings. Flickr photo by <a href="http://www.flickr.com/photos/sanfranannie/2594384782/sizes/z/in/photostream/" target="_hplink">SanFranAnnie</a>

Mojo Bicycle Cafe

Located just off the famous "Wiggle" bike route, Mojo Bicycle Cafe combines two of San Francisco's favorite pastimes in a single location--it's a coffee shop in front and a bike shop in back. If you ever had the urge to see what would happen if you lubed your chain with macchiato, this is the place to make that stupid, stupid idea a reality. Flickr photo by <a href="http://www.flickr.com/photos/honan/2342926391/sizes/z/in/photostream/" target="_hplink">Mat Honan</a>

The Page

Even the trendiest of 'hoods needs a dive bar and The Page is Divisadero Corridor's official low-key watering hole. Dotted with PBR swilling neighbors on weeknights and packed PBR swilling hipsters on weekends, The Page in an inviting place where anyone in the city can plop down on a bar-stool and wet their whistle. Flickr photo by <a href="http://www.flickr.com/photos/rotron/4703860790/sizes/z/in/photostream/" target="_hplink">Roshan Vyas</a>.

Madrone Art Bar

The Madrone Art Bar can sometimes seem too hip for its own good. At one point, the space above the bar was filled with a crucified Mickey Mouse doll spray-painted gold and a rife adorned with Burberry. But don't let the bar's knowing trendiness get to you. Down a couple drinks and, before you know it, its well after midnight and you're having the time of your life, shaking your booty at one of the bar's monthly Prince vs. Michael Jackson club nights. Flickr photo by <a href="http://www.flickr.com/photos/jganderson/4670537083/sizes/z/in/photostream/" target="_hplink">holisticmonkey</a>.