Mother's Day 2012: HuffPost Black Voices Editors' Celebrate Our Amazing Moms And You Can Too! (PHOTOS)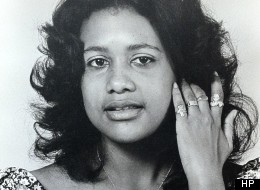 Like the song says, "I'll always love my mama--she's my favorite girl!"--and we at the HuffPost Black Voices couldn't agree more!
So in celebration of our favorite gals we've pulled together a small slideshow of the women that gave us life, love and so much more.
We invite you to shine the spotlight on your beautiful mother as well by adding a picture of her to our slideshow below!
"My mom Anna Williams, circa the '70s." - Brennan Williams, pop culture editor, HuffPost Black Voices (HP photo)

"My mom Anna Williams, circa the '70s." - Brennan Williams, pop culture editor, HuffPost Black Voices (HP photo)

"My mom, looking stylish and young!" - Christina Norman, Executive Editor at The Huffington Post Black Voices. (HP photo)

"My mom, looking stylish and young!" - Christina Norman, Executive Editor at The Huffington Post Black Voices. (HP photo)

"This is my mom, Patricia Maitland Cumberbatch, posing for a photographer friend circa 1977. Get into that hair!" - Jessica Anderson, lifestyle editor, HuffPost Black Voices (HP photo)

(HP Photo)

"My mother, then Wanda Worthington, was a bad mutha... (shutting my mouth now.) Here, in a family portrait circa the mid-1970's, my mother, left, poses with my grandmother and grandfather." - Trymaine Lee, senior reporter, HuffPost Black Voices (HP photo)

"Isn't she a stone cold fox??? And my dad isn't too shabby either! Details: Mary Ann Wilson and Joe Wilson in Los Angeles, Ca. the summer of 1976. They drove cross country from LA back to Boston--where they each were living. The picture was taken 6 months before they got engaged. Swoon!" - Julee Wilson, style and beauty editor, HuffPost Black Voices (HP photo)

"My mom is my style inspiration. She still knows how to accessorize like a star!"- Julee Wilson, style and beauty editor, HuffPost Black Voices (HP Photo)

"I had to share the fierceness of Mrs. Cadet, relaxing in a white linen skirt paired with killer accessories." - Danielle Cadet, associate editor, HuffPost Black Voices (HP photo)

"I had to share the fierceness of Mrs. Cadet, rocking a color block suit at my sister's communion. ." - Danielle Cadet, associate editor, HuffPost Black Voices (HP photo)

"Here's my mom - Betty Murphy - in the 50's." - Derek Murphy, general manager, Multicultural at The Huffington Post (HP photo)

"Here's my mom - Betty Murphy - Derek Murphy, general manager, Multicultural at The Huffington Post (HP photo)

Norma Jarrett:Rocking the Supremes "do" -

0z0ne:Happy Mother's Day, We love you Mom !

Andrea Blackwell:Mother had a lot of trouble getting me to hold still. sigh Happy Mother's day! Hug 'em if you got 'em.

Andrea Blackwell:My favorite portrait of Mother.

Carolyn Bakkar:My beautiful mother!!

Carolyn Bakkar:A true gem and then some!!!

kolay1629:My mother at the NAACP Convention Kansas City, MO