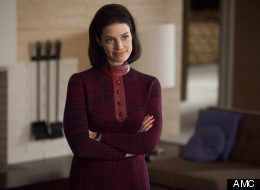 Megan Draper: future film critic?
Spoiler Alert: This article reveals minor plot details from "Mad Men" Season 5 Episode 8. If you don't wish to know what happened in the episode, please stop reading now.
During "Dark Shadows," Sunday night's polarizing episode of "Mad Men," Don Draper's happy wife (played by Jessica Pare) took a shot at the soap opera "Dark Shadows" -- a fortuitously timed reference, since the film adaptation of the series opened in theaters last Friday.
"Who the hell is this woman?" Megan mockingly asked while helping a friend rehearse some over-the-top lines from the show. She then added: "I don't think I've seen [a soap opera] this bad. And isn't it supposed to be scary?" Later, she refers to "Dark Shadows" as "a piece of crap."
Megan's harsh words echoed some reviewers of the big-screen adaptation of "Dark Shadows," which currently holds a poor 42 percent Fresh rating on Rotten Tomatoes.
"How bad is 'Dark Shadows'?" wrote Detroit News critic Tom Long. "It makes you long for a 'Twilight' movie."
The Johnny Depp-led film earned $28.8 million at the box office, good for second place behind "Marvel's The Avengers."
Described as gothic soap opera, "Dark Shadows" focused on the Collins family and the supernatural occurrences that happened around them. The series debuted on June 27, 1966, some five months before the events of the "Mad Men" episode bearing its name took place.
"Dark Shadows" wasn't the only real-world event discussed during Sunday night's "Mad Men"; the air-pollution emergency that Megan warns Don about at the end of the episode actually happened. Nov. 24, 1966 was the smoggiest day in New York City history, and the pollution was reportedly responsible for 169 deaths. A "cool air mass" blew the smog away three days later.
RELATED: "Mad Men" & "Game of Thrones" Comparions
Mad Men vs. Game of Thrones
Old lions still in the game. Don't underestimate them.

Intelligent, resourceful children subjected to terrible trials. Home life not ideal.

Red-headed women disappointed by ambitious, abusive men.

Smart, thoughtful people working hard in an unforgiving, discriminatory environment. These two are among TV's most layered, complex characters (and is it just me or do they even look like they could be related?).

Resentful aristocrats with serious family baggage and a constant need to assert their manhood. They can be impetuous, spoiled brats, but we often pity them as well.

Bitter, wealthy, blonde mothers of three with serious narcissism issues.

Strangers in a strange land in search of new destinies. Quite the scrappers.

Relatively normal people just doing a job and getting paid.

Determined young women from north of the border.

Well-intentioned, sometimes awkward young men with unusual roots. I can't imagine not rooting for them as they try to find their place in the world.

Gruff, but more or less decent guys. Not exactly enlightened, but you'd want them to have your back in a crisis.

Well-to-do but often classless operators. A little douchey at times, honestly. Nice threads, though.

Characters who just make me happy. And if it came down to a fight, they would absolutely win, one way or another.

Gay guys I want to hang with again. Soon.

Calculating, well-established power players who are frequently amusing and always up for some office politics. Invite them to your cocktail parties, but don't necessarily trust them.

Jackasses I want to see beheaded. Really soon.