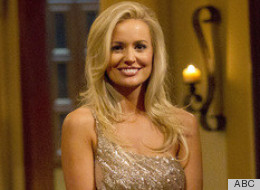 She may not be the loudest nor the most dramatic contestant, but Emily Maynard, star of the new "The Bachelorette," is one of the most stylish girls to ever grace the ABC dating show.
As a Mrs. Brad Womack hopeful on "The Bachelor," Emily complemented her polite, soft-spoken demeanor with a rather decisive fashion sense: she was particular about her accessory choices, wore heels often, purposefully played up her impressive legs and adeptly layered when the time called for it.
Her upbringing and morals may be traditional but her style sense is fashion-forward, which should provide some nice sartorial eye candy as she embarks on yet another "journey to find love."
So what can we expect as Emily takes the reins as the woman of the hour on tonight's "The Bachelorette" premiere? We rounded up five signature "Emily " looks from Brad's season to get a hint of what's to come.
Emily Maynard's Best "Bachelor" Fashion
When Brad and Emily embarked on their first one-on-one date in a vineyard, Emily picked the perfect low-key outfit: a strapless floral romper (feminine, cutesy) with a slouchy open vest (laid-back, carefree). And of course, she chose to show off those impressive gams.

Emily stunned Brad from the moment she stepped out of the limo in that black gown. With a sweetheart neckline, flared-out skirt and embellishment at the waist, the gown was traditional, ladylike and alluring all at once. In other words, perfect for showing Brad what Emily is all about.

The sweet, mild-mannered Southern gal showed off a sassier side in white Dukes and brown boots, bravely topping it off with a denim shirt and a turquoise necklace. We love the muted color palette and flattering (for Emily's tiny body, at least) proportions.

All three finalists -- Chantal, Emily and Ashley -- are beautiful women. But Emily's body-con dress was the most supremely flattering and slimming of them all. The chic black shoes top off the look.

Maybe it was intended as a good luck charm, maybe she didn't: but Emily wore bridal whites when making her final bid for Brad's heart and that giant Neil Lane sparkler... and she won them both.