Condoleezza Rice SMU Commencement: 'Education Is Transformative'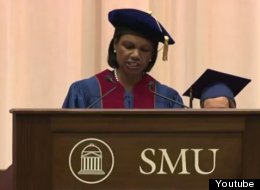 Former Secretary of State Condoleezza Rice spoke at Southern Methodist University on Saturday, Rice spoke on the importance of faith and education in one's life, telling graduates, "No one should assume that a life of reason is easy."
SMU is the site of the George W. Bush Presidential Center. Rice, a former member of the Bush cabinet, is a board member at the Bush Institute on campus. She also holds three concurrent positions at Stanford University.
WATCH: