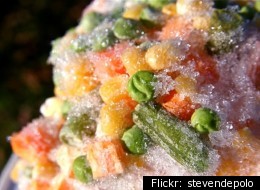 It's not hard to come across someone who hates at least one type of vegetable (if not many). Brussels sprouts are commonly despised, lima beans are pretty high on that list, and spinach isn't far behind. But more often than not, these vegetables were never given a fighting chance, being reheated from a frozen state and never tasted fresh.
When you opt for frozen veggies, you're gambling with flavor. We know that fresh produce is not always an option -- whether it's out of season or just too pricey -- and so at times frozen is the way to go. Some vegetables work great frozen and others are just destroyed from the arctic chill. Click through the slideshow below to see which make out okay and which are best to avoid.
The fact that Brussels sprouts taste terrible frozen is probably no surprise since these little guys are hated by many even when fresh. Image from Flickr: smith_cl9.

You can smell the scent of fresh artichokes even before you open the bag. Frozen artichokes are a great option, especially since they get so pricy when fresh. Image from Flickr: joyosity.

You'd think that carrots are a natural choice for freezing, but something happens when sliced and chilled. They turn rubbery and become inedible. Image from Flickr: claireknights.

While it might not keep its great crunch, corn does maintain its sweetness when defrosted. And it makes a quick, easy side dish to go along with dinner. Image from Flickr: planetc1.

If there's one thing you really don't want from your veggies it's for them to stink when you cook them. And that's exactly what happens with broccoli when you try to resurrect it from the freezer. Image from Flickr: cyclonebill.

While fresh peas are the crowning glory of spring, frozen ones are pretty good, too. If you only keep one thing in your freezer at all times, it should be frozen sweet peas. They can make any dinner better. Image from Flickr: soommen.

If you're one of those people that cooks their asparagus till it turns to mush, then by all means go for frozen. If you're not keen on that type of preparation, then steer clear. Image from Flickr: Muffet.

Besides the fact that edamame are hard to find fresh, they really do taste great frozen. And the best part is, they make a great healthy snack too. Image from Flickr: cyclonebill.

Cauliflower loses its silky qualities and sweet flavor when frozen. Instead, you end up with crumbly florets and rubbery stalks. Image from Flickr: Nick Saltmarsh.

Frozen spinach will never be the same as fresh, but it works really well in many recipes -- such as lasagna -- where you won't even be able to tell the difference. Image from Flickr: ted_major.

Lima beans already have a hard enough pleasing people. So if you opt for frozen, where they become grainy and dry, it just makes it that much harder. Image from Flickr: kthread.

Learn how to properly defrost foods.