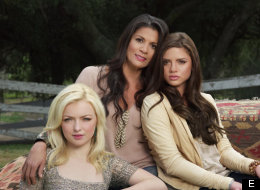 It's a week of finales on TV this week, so before getting excited about next season's series, let's remember to say goodbye to our tried and true shows.
We're saying so long to some favorites, including "Community," (Thurs., 9 p.m ET on NBC) "Grey's Anatomy," (Thurs., 9 p.m. ET on ABC ) and "Smash" (Mon., 10 p.m. ET on NBC), the show everyone loves to group-hate.
Luckily, mourning the loss of our weekly fixes isn't all we're doing. "Mrs. Eastwood And Company" (Sunday, 10 p.m. ET on E!) kicks off this week, and a double-bill of "Glee" (Tues., 8 p.m. ET on Fox) features Lindsay Lohan as a guest judge.
Click through our slideshow to see what else is worth watching this week, and set those DVRs!
"Bones" (8 p.m. ET on Fox) season finale Evil tech genius Christopher Pelant (guest star Andrew Leeds), a suspect in a previous case Brennan and Booth handled, is back in court on appeal. Knowing what he is capable of, Brennan and Booth inform the judge that he is a suspect in two murder cases. Then, Brennan and Booth are called to the scene of a new murder. After determining the victim is Brennan's friend, who also is linked to Pelant, the Jeffersonian team works to prove he is guilty once and for all. But when law enforcement examines the team's findings, key pieces of evidence are tied to Brennan and suspicion falls on her.

"Gossip Girl" (8 p.m. ET on The CW) season finale When Gossip Girl goes after Blair as she's never done before, Serena admits she may have unintentionally played an important role in Blair's latest nightmare. Meanwhile, Nate invites Lola to move in with him, and Lily must make a big decision about the future of her marriage. Finally, by episode's end, Blair will make a choice between the two men in her life ... will it be Chuck or will it be Dan? Followed by the finale of the also-renewed "Hart of Dixie."

"How I Met Your Mother" (8 p.m. ET on CBS) one-hour season finale On Barney's future wedding day, when his wife is finally revealed, the gang reminisces about the time they encouraged Ted to follow his heart and go after the one that got away. Followed by the season finales of "Two and a Half Men" and "Hawaii Five-0."

"Make It or Break It" (9 p.m. ET on ABC Family) series finale Eight weeks at the USA Training Center have led to this moment: who will make it onto the 2012 Olympic Gymnastics team and who will be left behind in the show's final episode. Payson decides to rework her floor routine at the risk of losing a spot on the team. Kaylie is at a loss when Jordan refuses her help. Still recovering from surgery, Lauren balances her health with her need to make it to the Olympics. Meanwhile, Kaylie is thrown for a loop when she is told that her drug test came back positive for a banned substance.

"The Bachelorette" (9.30 p.m. ET on ABC) season premiere Fan-favorite Emily Maynard -- the first single mother in "Bachelorette" history -- begins her own search for love in Charlotte, NC in the eighth edition of the romance reality series. Season highlights include trips to Bermuda, London, Dubrovnik and Prague, and appearances from Dolly Parton, Gloriana, Luke Bryant and The Muppets.

"Kurt Sutter's Outlaw Empires" (10 p.m. ET on Discovery) series premiere "Sons of Anarchy" creator Kurt Sutter enters the realm of the gangs and families who have dominated our streets and helped shape our nation's history. Steered by Sutter's compelling insight, each episode tells the complete story of an iconic American outlaw dynasty -- directly from the mouths of people from the inside. Through their no-holds-barred accounts, the series takes an unvarnished look at moment-by-moment experiences that were not only pivotal for the organizations themselves, but life-changing for the individuals telling the stories.

"Smash" (10 p.m. ET on NBC) season finale The big night is finally here. Tom and Julia race against time to save the show, while Derek makes a decision that will change the lives of Karen and Ivy forever. Ellis reveals his true colors (hmm) -- but when he finally makes his move to save "Bombshell," will it be for or against Eileen? In the midst of it all, another bombshell goes off -- this time in Karen and Dev's relationship.

"Glee" (8 p.m. ET on Fox) double-bill As the countdown to graduation continues, the kids of New Directions prepare a high-concept routine for Nationals. When Tina bumps her head, the world of New Directions is turned upside down in her eyes. Then, the New Directions perform at Nationals for celebrity judge Lindsay Lohan (guest-starring as herself). Worth watching for the Lohan trainwreck factor alone, no?

"Cougar Town" (8 p.m. ET on ABC) double-bill Now that the underappreciated (and still genius) comedy has officially made the move to TBS, ABC seems to be in burn-off mode with two weeks of hour-long blocks -- but we're just happy that it'll be around for another year. In the first episode, Grayson moves in with Jules after the hurricane damages his house, but the sudden togetherness makes them wonder if they're going to make the same mistakes in their upcoming marriage that they made in their past relationships. In the second, when Jules realizes that the cul-de-sac crew didn't celebrate Thanksgiving together, she decides to celebrate the holiday, even though it's spring. The "Private Practice" season finale airs at 10 p.m. ET.

"NCIS" (8 p.m. ET on CBS) season finale Terrorism threatens to shake the foundations of the Navy and NCIS, when the team continues to be eluded by the newest member of the NCIS Most Wanted Wall. Meanwhile, Jimmy Palmer's destination wedding is impacted by the case. Jamie Lee Curtis returns as Samantha Ryan, Scott Wolf returns as Jonathan Cole and Richard Schiff returns as Harper Dearing. Followed by the two-hour season finale of "NCIS: Los Angeles."

"Fashion Star" (10 p.m. ET on NBC) season finale The modestly-rated reality show has been renewed for a second season, so find out who wins the freshman year tonight. The remaining three contestants are tasked with creating separate showcases consisting of three garments for each of the retailers. The designer that can meet the needs of Macys, H&M and Saks Fifth Avenue will be named America's first "Fashion Star" and receive a capsule collection in each of the stores.

"Pregnant in Heels" (10 p.m. ET on Bravo) season premiere America's premier maternity concierge, Rosie Pope again guides New York City's most affluent expecting mothers through the joys and perils of preparing to have a baby. Busier than ever, Rosie continues to run MomPrep, the leading training academy for mothers-to-be and her own high fashion maternity boutique located in Manhattan and Santa Monica. This season Rosie and her team work to tackle all their clients' pregnancy dilemmas, from planning a home birth to helping a single mom-to-be date during her last trimester to throwing a babymoon in the Dominican Republic to rigging a paranoid client's house with video cameras to spy on her nanny.

"Best Ink" (10 p.m. ET on Oxygen) season finale The final three contestants tattoo three returning clients with three different symbols of love. Margaret Cho helps decide who has the Best Ink and will win the $100,000 prize.

"Suburgatory" (8.30 p.m. ET on ABC) season finale Residents of Chatswin go all out in celebration of their moms, leaving a noticeable void for Tessa, while Dalia chooses to go to Israel without Dallas. Meanwhile George and Eden attend the Lerners' baby shower, and Eden reacts to the endangered animal theme; Fred surprises Sheila with a special performance by her favorite solo artist, and Lisa makes a startling discovery. The rest of ABC's Wednesday line-up has a week to go before their finales, but they're still worth watching, especially ...

"Revenge" (10 p.m. ET on ABC) A painful loss forges a stronger bond between Emily and Jack, Victoria forms a new alliance that could seal Conrad's fate, and Charlotte sets out on a vendetta of her own with Declan as her target.

"Criminal Minds" (9 p.m. ET on CBS) two-hour season finale When the BAU goes up against a gang of serial-killing bank robbers in Washington, D.C., the team tries to negotiate the situation unfolding inside the bank, but the stakes rise when one of their own becomes a hostages. Also, wedding bells ring for one of the BAU, and Prentiss ponders her future.

"Community" (9 p.m. ET on NBC) one-hour season finale Just to confuse you, there are actually *three* episodes of the blissfully-renewed (and headed for Fridays) "Community" on Thursday, the first at 8 p.m., followed by the "30 Rock" season finale at 8.30, followed by the hour-long "Community" finale at 9 p.m. Thanks for making it simple, NBC. In the first episode of the double-bill, with Chang in control of Greendale, the study group develops an elaborate plan to infiltrate the campus without being detected. While Chang becomes distracted planning a big birthday bash for himself, Jeff and the study group launch their sneak attack. In the second, When Shirley and Pierce have a disagreement over their sandwich shop, Jeff agrees to argue on Shirley's behalf but much to his chagrin, Pierce retains Jeff's former colleague Alan Connor (guest star Rob Corddry) and the two must square off in "Greendale Summer Fun Court."

"Grey's Anatomy" (9 p.m. ET on ABC) season finale Faced with a life threatening situation, the doctors must fight to stay alive while trying to save the lives of their peers; Bailey and Ben make a decision regarding their relationship; and Teddy is presented with a tempting offer. Meanwhile, Richard plans a special dinner for the residents. Followed by the season finale of the newly-renewed "Scandal," and preceded by the newly-cancelled "Missing."

"Person of Interest" (9 p.m. ET on CBS) season finale When a psychologist's (guest star Amy Acker) number comes up, Reese must protect her from one of her patients while eluding capture by the FBI, who are closing in fast. Meanwhile, Finch receives an unwelcome visit from an old acquaintance. Followed by the season finale of "The Mentalist," which has also been renewed by CBS.

"Nikita" (8 p.m. ET on The CW) season finale Nikita and Michael invade Division in an attempt to capture Percy. Alex and Sean get caught in a deadly gunfire battle with the U.S. Marines and Ryan must convince the President of the United States not to destroy Division until he is sure Nikita and Michael are safely out of the building, but the President is eager to end Percy's reign. Meanwhile, Birkhoff asks Sonya for help.

"Shark Tank" (8 p.m. ET on ABC) season finale The Sharks start a feeding frenzy for a chance to go into the residential lock business with a man from Orlando, FL who invented a way to incorporate the common key into a mobile phone. Two fitness trainers from Medina, OH hope to convince the Sharks their home gym is better since it provides nitrogen gas-pressured resistance. A young man from Trophy Club, TX asks the Sharks to invest in his age-defying products that were inspired by his older girlfriend.

"Supernatural" (9 p.m. ET on The CW) season finale Dean and Sam prepare for battle with Dick Roman. Dick's in the final phase of his plan and the Winchesters must team up with Castiel, Bobby, Meg and Kevin, the prophet, to stop him. However, Dick is one of the smartest enemies they've ever faced so it's a mind game to see who can keep the upper hand.

"Grimm" (9 p.m. ET on NBC) season finale As Nick delves deeper into his life as a Grimm, a trail of grotesque murders reignites the search for the elusive gold coins. The arrival of a mysterious woman in black (guest star Mary Elizabeth Mastrantonio) begins to get in the way of Nick and Hank's investigation as extra precautions have to be taken to ensure their safety. Meanwhile, Nick's ability to keep his true nature secret from Juliette comes to a tipping point.

"Saturday Night Live" (11.30 p.m. ET on NBC) season finale The show's 37th season closes with Mick Jagger, which should be ... interesting. And savor the ensemble while you can; next season could look markedly different if reports of Kristen Wiig, Andy Samberg and Jason Sudeikis leaving prove true.

"Harry's Law" (8 p.m. ET on NBC) series finale Despite being one of NBC's most-watched series (second only to "Smash") the network officially pulled the plug on the older-skewing show last week. In the final episode, Harry's ex-husband is found dead with no one to claim the body, burdening her with planning the funeral which, to her surprise, stirs up more emotion than she anticipated. Meanwhile, with Tommy's help, Harry agrees to represent a man publicly named a person of interest in the murder of his ex-wife. Elsewhere, Oliver tries to rope Cassie into representing a student who is suing the Law School that denied her entrance because they practice affirmative action.

"The Simpsons" (8 p.m. ET on Fox) season finale Lisa tries to reverse her status as one of the least popular girls in school by ghostwriting positive things about herself on the school blog. When her plan backfires, her social ranking plummets to a new low - until a psychic force tells Lady Gaga (guest-starring as herself) that Lisa needs her help. With Gaga's assistance, Lisa and the entire town of Springfield realize that being yourself is better than being like anyone else. Fox's entire Sunday comedy line-up air their finales tonight (except "American Dad"), including a double-bill of "Family Guy" at 9 p.m. ET.

"Sherlock" (9 p.m. ET on PBS) season finale The cerebral, modern-day update of Sherlock Holmes comes to a gripping conclusion tonight, with arguably its strongest episode yet. Watch as Moriarty poses the "final problem" and a tabloid reporter reveals the "shocking truth" about Sherlock.

"Mrs. Eastwood and Company" (10 p.m. ET on E!) series premiere Debuting behind a new season of the heinous Kardashian hour, this half-hour docu-series chronicles the lives of Dina Eastwood, the wife of Oscar-winning film legend Clint Eastwood, their daughters Francesca (18) and Morgan (15), and the all-male, six member vocal group from South Africa managed by Dina, "Overtone." E! calls it "an unprecedented look at the surprisingly normal extended and blended family behind one of Hollywood's most iconic superstars. This series invites viewers to witness their lives and proves that familial bonds are shaped by more than DNA."

"Aziz Ansari: Dangerously Delicious" (10 p.m. ET on Comedy Central) special presentation In the special, filmed at The Warner Theatre in Washington DC, "Parks and Recreation" star Ansari regales the audience with stories about his frustrations with women, the difference between a rock tour and a stand-up tour, and why he'd almost always rather hang out with his friend Brian. He takes viewers on a hilarious journey of some of life's funniest experiences, including helping his infamous Cousin Harris write a college essay and discovering that rapper 50 Cent does NOT know what a grapefruit is.