Shakespeare's Insults Explained Via TED-Ed Animation: What's Your Favorite Literary Put-Down? (VIDEO)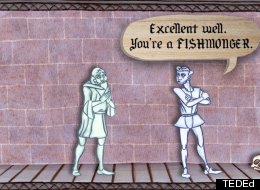 It's common knowledge Shakespeare used a lot of words. Some he made up, some he combined to great effect, and some were just straight out disses. That last category is the subject of a recent animation by the good people at TEDEd, the TED offshoot that's every lesson plan-writing teacher's dream. Today's lesson: how do Shakespeare's insults function within his plays? The answer, as you'll see below, is more subtle than you might expect.
WATCH:
It's rare we actually ask you to leave insults in the comments sections, but that's exactly what we're about to do. If you need a refresher, here's a handy guide to the Bard's best yo' mamas from HuffPost Books. Or check out this broader chart of put-downs from Dostoevsky to Dent.
[via Brainpickings]