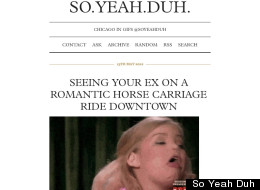 Consider it the new "Shit (Fill In The Blank) Say." As of last Friday, Chicago is the latest city to receive the (probably) long overdue GIF-centric blog treatment.
Following in the footsteps of other Tumblr blogs like "When In LA" and "When In DC," the new blog So Yeah Duh examines life in Chicago through the lens of an assortment of animated GIF images that illustrate various Chicago-only issues through various pop cultural imagery paired with short, snappy captions.
The topics addressed in the images exhibit considerably more range than, say, a certain YouTube video released earlier this year, but still feel rooted in a Wicker Park nightspot-hopping, West and South Side-shunning slice of Chicago life.
That said, clearly the blog takes on a number of truisms any Chicagoans can relate to -- such as gloating in Disney villain-esque style about enjoying nicer weather than the West Coast on an occasional summer day and eating those words come February.
And who couldn't relate to this disappointment?
We've rounded up a few of the blog's GIF-rific mashups. Do you think So Yeah Duh knows their stuff.. or have they missed the mark? Weigh in below.