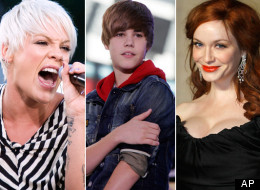 When it comes to divorce, celebs say the darndest things -- especially about their parents' splits.
Click through the slideshow for the surprising thing celebrities have said about their parents' divorces, and vote for the one that you think is the craziest.
What Celebs Said About Their Parent's Divorces
In a 2004 interview with Oprah, Nicole Richie revealed how her dad Lionel Ritchie's 1993 divorce from her mother, Brenda, affected her at eight years old: "When my dad divorced my mom it was kind of like him leaving me also."

In the March 2012 issue of Cosmopolitan UK, Christina Hendricks opened up about her parents' split. The "Mad Men" star told the magazine that their divorce -- which happened just after she graduated from high school -- "didn't affect" her. "They hadn't been getting along for some time," she said. "I was like, 'Just get a divorce. Save yourselves.'"

During a 2010 concert, Justin Bieber reportedly broke down after performing "Down to Earth," a song inspired by his parent's split, which happened when the pop star was three. "My parents splitting up is definitely not one of the highlights of my life. It's sad, the kid experiences feeling like one of his parents left," Bieber reportedly told Twist magazine in June 2010. "It makes you not feel so good. I think a lot of kids have had their parents split up, and they should know that it wasn't because of something they did."

In an April 2011 Us Weekly interview, Khloe Kardashian opened up about gaining weight after her parents' 1991 divorce: "My brother [Rob] and I were always heavy. They gave us food to keep us comforted. All we did was eat crap."

In August 2002, Britney Spears had this to say about her parent's divorce that year: "It's the best thing that's ever happened to my family."

Johnny Depp recently opened up about the response he had to his parents divorce as teen. According to the Daily Mail, the actor said, "I recall hearing my parents argue and thinking: 'Come on, this is torture. Just split!' They stuck it out until I was 15, but I'd seen it coming for years. When they finally did divorce, I thought: 'OK, this is the right thing'."

In a 2007 interview with the Sunday Telegraph, singer Pink said she morphed into an angry teen following her parent's divorce. "I was never allowed to go over to any of my friends' houses when I was little, because I was the bad influence," she said. "None of their parents liked me and my own parents were scared to death of me -- and for me."

In the August 2011 issue of Elle, Justin Timberlake talked about the impact his parent's divorce had on him. "My parents divorced when I was three. I'm humbly and honestly finding out that I have a lot of issues with that," Timberlake told the magazine. "I'm finding more and more that... I'm going to break the chain because that's what you want to do, break the chain of your parents. But at some point, it's in your blood and you have a thing that happens and you're like, 'Holy s**t, my parents did that.'"

In 2008, Brooke Hogan opened up about the closure she felt after parents, Hulk and Linda Hogan, divorced. "I was relieved to hear that the divorce was finally signed, sealed and delivered," she said. "They weren't good together. ... So it's like OK, everything's over, everything's done, you guys don't have to hate each other anymore."

In a statement released after Elizabeth Taylor's death, Carrie Fisher got sentimental about her father's decision to leave her mother, Debbie Reynolds, for Taylor. "If my father had to divorce my mother for anyone -- I'm so grateful that it was Elizabeth," Fisher said.

Film legend Bette Davis allegedly had this to say about her parent's divorce, which occured when she was seven years old: "Of course I replaced my father. I became my own father and everyone else's."