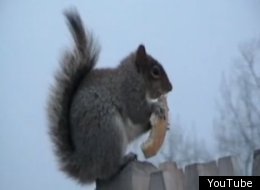 Sure, squirrels may look cute and harmless, but just like some other animals, they're not above breaking the law. They'll stop at nothing to get a taste of your food, and we have the footage to prove it.
Check out our YouTube collection of squirrel robbers, and next time you're eating some food at the park, be careful. A squirrel is probably waiting for the perfect moment to swoop in for a snack.
Funny Squirrels Stealing Food
That's not squirrel food! That's bird food!

This guy had to take a dizzying ride to get some food, but he got it in the end.

The container is of no consequence. The squirrel just wants the precious treasures inside.

You can't really blame a squirrel for wanting a Crunchy Nut Bar.

Stealing dog food, all while the dog is looking the other way, none the wiser.

Squirrels are a lot smarter than people think.

But he eventually found the McDonald's bun he was looking for.

Then quietly swoop in, take just one nut and run off into the distance. They'll never know.

$1.75 for a Baby Ruth? You can't blame the squirrel, that's a rip-off.

A feeder perfectly designed for the size and shape of a squirrel.

An impressive bit of ingenuity from a squirrel that really wanted that entire can of peanuts.

He probably came back for it later.

After some early complications, the squirrel gets the chips.

That lunch wasn't packed for you!

When you go camping, don't leave your food unattended. A squirrel will take it.