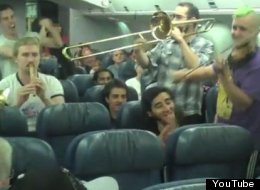 Passengers on a delayed Air Canada flight from Toronto to Frankfurt were treated to an impromptu concert on Wednesday when the band Lemon Bucket Orkestra broke out their instruments for a klezmer hoedown in economy class.
"Our plane got delayed 20 minutes so we got out the instruments," the band wrote on its YouTube page.
The band's jovial music was met with enthusiasm and, from the looks of it, a bit of confusion by the flight's passengers, who had not expected a performance from a band that bills itself as "Toronto's only Balkan-Klezmer-Gypsy_Party_pun Super-Band."
The video of the performance was apparently taken by a roadie or fan joining the band on its "Balkan Station Romanian Tour."
The jam session was not the first performance enjoyed by a group of shocked travelers. The Copenhagen Philharmonic played the Peer Gynt suite on a city train earlier this month and no less than Kanye West performed for a group of shocked Delta passengers last year. Rapper B.o.B. quickly followed West's lead. The Michigan University Marching Band also serenaded passengers on a Virgin flight.