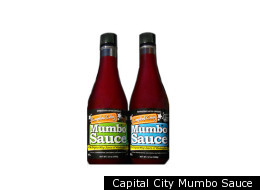 Condiments don't get a lot of love. They're almost never the star player in a favorite dish. But when you can't get your hands on a particular condiment or seasoning, then you really begin to notice how much flavor they contribute. We've heard from our readers that Southerners are particularly proud of their Duke's mayonnaise, but we know there are a lot of other regional condiments -- and we want you to brag about them.
Click through the slideshow below to see our readers' favorite regional condiments. And if you don't see yours, submit it!
Top the Tater is a mixture of sour cream with onions, chives and seasoning. It's sold specifically as a baked potato topping. Buy Top the Tater Submitted by Christine Johnson Sadowski: "Can't get it in Florida."

Tulkoff's Tiger Sauce is a mild mayonnaise-based spread that's mixed with horseradish. It is recommended as a dipping sauce for fried foods and a way to add extra flavor to pasta salads. Visit Website: Tulkoff's Tiger Horseradish Sauce Submitted by Glyn Furgurson Pogue: "Tulkoff's Tiger Sauce in Maryland/DC. It's harder to find now, but was a must-have on roast beef and other sandwiches."

Peter Luger, arguably one of the best steakhouses in NYC, now sells their steak sauce to the public (after some insistent begging from their customers). The sauce tastes somewhere between cocktail sauce and traditional steak sauce . Buy Peter Luger's Steak Sauce Submitted by Carolyn Kelly Walkin.

Originally only sold at the ball park stadiums, Joe Bertman finally started selling his famous mustard to the public after almost 50 years of producing it. Buy Bertman's Ballpark Mustard Submitted by Allie Wawrzyniak: "Bertman's Ballpark Mustard! Clevelanders love it!"

Duke's Mayonnaise is a popular condiment in the southeast United States. It stands apart from other store-bought mayonnaise because it has no added sugar. Duke's was started by Eugenia Duke, whose recipe is still used, and is still a family owned company. Buy Duke's Mayonnaise

Fry sauce is the simple combination of ketchup and mayonnaise that many people in Utah use to eat french fries. It's not unique to Utah (you can find it in other parts of the world such as Argentina and Germany), but it has become a staple in that state. Some Dude's is one of the companies that manufactures it. Buy Some Dudes Fry Sauce Submitted by Connie Packer.

Everglades seasoning is meant to replace your salt and pepper -- it's an all purpose seasoning. Buy Everglades Seasoning Submitted by Crystal J. Sage: "Here in SW Florida we use a seasoning called Everglades Seasoning. It can only be found down here or online. It's a mix of black pepper, garlic powder and other spices."

The moppin sauce is mixture of sweet, tangy, spicy, vinegar and mustard. Buy Everglades Moppin Sauce Submitted by Crystal J. Sage: "It's the BEST!! :)"

Weber's is a family owned business that was opened in the 1920s in Western New York. And though the horseradish mustard is much recommended, they also have a jalapeno and mustard version. Buy Weber's Horseradish Mustard Submitted by Bonnie Stanton Anauo.

Tony Chachere's Creole Seasoning is a blend of spices that's used on meats and stews -- and even on french fries. Buy Tony Chachere's Creole Seasoning Submitted by Annika Elston.

Texas Pete Hot Sauce is a North Carolina favorite. The fact that Texas is part of the brand name has nothing to do with origin, but is meant to communicate its piquant flavor. Buy Texas Pete Hot Sauce Submitted by Jane Coombs.

Mumbo sauce is a red tomato-based sweet and tangy sauce, with a bit of spice. It's used for chicken wings and french fries and is almost exclusivly found at DC Chinese takeout restaurants. But Capital City, a local DC business, has begun producing and distributing this regional favorite. Buy Capital City Mumbo Sauce Submitted by @DrDCBrie: "We have mambo sauce. You get it at your local Chinese takeout, which we refer to as the carryout."

Ballymaloe Country Relish is an Irish tomato-based sauce that's usually eaten with french fries, sandwiches and burgers. Buy Ballymaloe Country Relish Submitted by Lola Venter Gavin: "I love it! Delicious with the pefectly poached egg for brekkie as well as the homemade burger for dinner :P *mmmm yummy*"