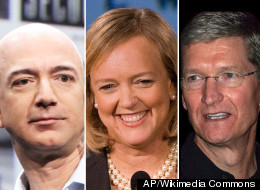 Some of the tech world's most well-liked CEOs also have commanding web presences.
PeekYou, a search company that ranks individuals' influence and appearances around the web, sought to answer this question by compiling a list of the most well-liked tech CEOs online.
Back in March, career review and rating site Glassdoor.com compiled a list of the top 9 tech CEOs according to their approval ratings by employees. PeekYou took each of the CEOs featured on Glassdoor.com's list and then ranked them based on their PeekScore, determined by a person's web presence assessment and graded on a scale of 1 to 10. According to the site, one's PeekScore is determined by activity such as blogging, social networking and one's number of followers, friends and readers, among other criteria.
Flip through the slideshow below to check out which of the tech world's top CEOs is most connected to the digital world. Were you surprised who ranked number one? Share your thoughts with us in the comments! But before you do, make sure to view the 11 most influential young leaders in tech, as ranked by PeekYou, as well as the company's list of the most influential women in tech.
The Web Presence of The Most Well-Liked Tech CEOs
PeekScore: 7.52 out of 10.00 Dan Hesse was named CEO of Sprint Nextel back in December 2007; prior to his years at Sprint, he had spent 23 years at AT&T.

PeekScore: 7.59 out of 10.00 Prior to becoming CEO of IT company VMware, Paul Maritz spent some time at Intel and Microsoft. After more than 30 years of experience in the tech world, Maritz joined VMware's team back in 2008.

PeekScore: 8.01 out of 10.00 Qualcomm CEO Paul Jacobs began at the telecommunications company as a development engineer back in 1990. Since then, Jacobs moved up the ranks, eventually becoming CEO in July 2005 and chairman in 2009.

PeekScore: 8.08 out of 10.00 Paul Otellini has been at Intel since 1974 and, after a few years in other upper-management positions, finally snagged his current position as CEO in May 2005.

PeekScore: 8.20 out of 10.00 Amazon CEO Jeff Bezos founded the popular online store way back in July 1995. Now, the site is known for its extensive online book offerings and Kindle e-reader.

PeekScore: 8.95 out of 10.00 Tim Cook took the helm as CEO of Apple just a few months before the death of the late Steve Jobs in October 2011. From August 2011 until now, Cook has skillfully overseen the launches of the iPhone 4S and the third iPad and has steered the company through one of its best quarters yet.

PeekScore: 8.95 out of 10.00 Larry Page cofounded Google with Sergey Brin way back in 1998 and served as the company's CEO until 2001. After a short break, Page returned as CEO in January 2011, succeeding the company's former CEO Eric Schmidt.

PeekScore: 8.97 out of 10.00 Larry Ellison has served as CEO of the computer technology company Oracle since he founded it more than 30 years ago in 1977.

PeekScore: 8.98 out of 10.00 Hewlett-Packard's Meg Whitman held positions at such companies as eBay, Hasbro and The Walt Disney Company prior to joining HP as its President and CEO in September 2011.

Gender was never a consideration for Whitman as she developed her leadership style.