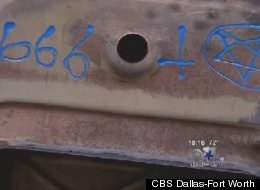 A Walmart customer says she found an unpleasant surprise after taking her car to the retail giant for an oil change.
A Fort Worth, Texas woman, known only as Jessica, claims that a Walmart mechanic with "an attitude" scrawled satanic symbols, including the "Mark of the Beast," on the bottom of her car during an oil change, CBS Dallas-Fort Worth reports (h/t The Consumerist). Jessica says she only became aware of the symbols when a mechanic at a different Walmart later pointed them out, saying the blue sealant used to write them is common to Walmart car-servicing stations.
"Who does that?" Jessica told CBS Dallas-Fort Worth. "I mean, what if it's a curse?"
Jessica's car crisis is the latest in a slew of bizarre incidents at Walmart stores. First of all, a rattlesnake reportedly bit a man while he was shopping in the garden section of a Washington state Walmart this week. Then in February, a razor blade was found in a brand new baby sleeper purchased from a Walmart in West Virginia, resulting in minor injuries. In addition, multiple customers were pricked by hypodermic needles found in clothing at a Walmart in Georgia last December.
Then there are the controversies that, like in the case of the satanic car incident, have to do more with human interaction. Donnell Battie is suing Walmart for a million dollars, after a 16-year-old allegedly said "all black people must leave the store" over the PA, according to the International Business Times.
It doesn't stop there. At the corporate level, Walmart is also in hot water over a variety of claims. The big box retailer's Mexico division is being investigated for allegedly using bribery to boost the number of stores in the country. The U.S. Labor Department also fined Walmart earlier this month for allegedly denying workers overtime pay.
CORRECTION: A previous version of this post mistakenly implied it was a Walmart employee that had said "all black people must leave the store" over the PA. It also wrongly stated that the man who was bitten by a rattlesnake was shopping at a Walmart in Idaho. He was at a Walmart in Washington state.
Check out some other astonishing Walmart stories below:
A Walmart lube tech in Texas allegedly wrote satanic symbols on a customer's car during an oil change.

This video of frenzied Walmart shoppers on Black Friday was taken in 2009.

A stain resembling the face of Jesus appeared on this Walmart receipt days after a South Carolina couple left it on the floor.

A 70-year-old greeter was punched by a customer at a Walmart in New York when she asked to see receipts.

A woman injured 20 when she pepper sprayed a crowd of Black Friday shoppers at a California Walmart last year.

A woman was arrested on charges of trying to cook meth in a bathroom of a Tulsa Walmart last December.

Last year, pranksters made a fake shopping list just to mess with Walmart employees.

Hypodermic needles were found hidden in clothes at a Walmart in Georgia and pricked at least two women last December.

A naked 300-pound naked man was caught on camera stealing socks in February.

Razor blades found in a baby sleeper newly purchased at a Walmart in West Virginia injured an infant girl in February.