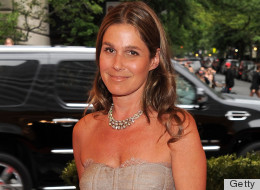 Move over, Estée: there's room for more than one Lauder at the makeup counter.
Aerin Lauder, Estée Lauder's granddaughter and style/image director of her family's legendary cosmetics company, is finally debuting her own lifestyle brand.
Women's Wear Daily reports that Aerin LLC, Lauder's lifestyle brand first announced back in April 2011, will see its first products hit stores in August. Lauder is beginning with a beauty line, natch, including The Aerin Essentials collection which will include cream-to-powder foundation, bronzer, lip conditioner and other basics. A "color collection" (lipsticks, eyeshadows, etc.) will arrive in early fall.
Then, after beauty, Aerin LLC is moving on to jewelry, tabletop items, fabrics and other home decor products.
The cosmetic heiress is already a style setter within the New York social scene, but can her name become as big as her grandmother's? When plans for her own namesake line were first announced last year, a source told the New York Post, "Aerin wants to be the next Tory Burch," if not bigger.
Perhaps Aerin-branded beauty will be just the thing to get her started. See more at WWD.com (including pics of the new makeup collection!) and, for kicks, explore Aerin's gorgeous, real estate envy-inducing East Hamptons home at ELLEDecor.com. Because that's always fun.
See more style mavens with their offspring below!
(Patrick McMullan Photo)

Dylan Lauren, 34 (also known as the "Candy Queen") made every little kid's dream come true with Dylan's Candy Bar, as inspired from her childhood memories of watching Willy Wonka. The magical Candy Land is a tourist attraction, as well as a worthy NYC staple for anyone- old or young- with a sweet tooth. Ralph Lauren's little girl got married this summer, and currently resides in NYC. (Getty photo)

(Getty photo)

Stylish genes run in the family for Donna Karan's daughter, Gabby- who also takes after her mom with nearly mirror image looks, too. DKNY was inspired by Gabby herself, who helped shape the more youthful and lower-priced line. Gabby also happens to be a a restauranteur and owns two restaurants in New York, and hopes to expand. (Getty photo)

Starting from scratch, the Missoni empire has been family run since it's start in 1953 thanks to Ottavio and Rosita Missoni. The traditional Italian grandparents to Margherita (left) and Teresa (right) have fostered the tight-knit company from generation to generation. The Missoni founders included their three children into the family business, one of which was their daughter Angela, who holds the title of creative director. Angela passed the Missoni legacy down to her daughters: Teresa, 22, has been praised for her effortless Bohemian-chic style, and has also expressed interest in exploring a career outside of the family business. Margherita, 28, is the accessories designer of Missoni, an aspiring actress, a model, and is also the "unofficial muse" of the Missoni brand. Margherita is next in line to predominately run the family-bred fashion house some day. But one thing is for certain with the gorgeous Missoni sisters: You can always bet they'll be decked out in head-to-toe Missoni on any given sighting...I mean, can you blame them? (Getty photo)

(Getty photo)

(Getty photo)

Alexandra, 39, is the image designer for her former mother-in-law's brand, Diane von Furstenberg. She also helped to revive the famous 70s DVF wrap dress, which made a huge comeback thanks to her efforts. In 1995 Alexandra married Diane's son, prince Alexander von Furstenberg, whom she has two (prince and princess) children with. However, the two divorced in 2002. Now, Alexandra has a successful contemporary furniture company that she created in 2007, and she also designs for. (Getty photo)

(Patrick McMullan photo)

Marci Klein may not have stayed in the family biz of fashion, but the four-time Emmy Award winning TV producer has done just fine on her own. She's best known for her work with 30 Rock and Saturday Night Live. Calvin Klein's only child is also known for her relationship with Alec Baldwin, who even dubbed her "the greatest producer in the history of broadcast television," in his 2007 Golden Globes acceptance speech. (Patrick McMullan photo)

Tommy Hilfiger has three daughters with his wife Kathleen. Elizabeth Hilfiger, 18 (right) who still lives at home in the family's Connecticut estate; Ally, 26 (left) who may be most recognized from her brief stint on MTV's "Rich Girls" (which she also co-produced); and Kathleen, 15 (not pictured) who also resides in Connecticut. Of the three, the eldest daughter Ally has had a rebound ever since her appearance on the short-lived MTV show, which glorified her "spoiled brat" behavior. After dabbling in acting, Ally is now staying in the family business of fashion and designing, and recently debuted her own fashion line, NAHM. Although she's contributed plenty with her father's brand, Ally's collection has sparked the making of a talented up-and-coming designer. (Getty photo)

(Getty photo)

Allegra Versace is heir to the Versace throne and is Donatella's only child. The 25-year-old has had a turmoil battle with anorexia for many years, which Donatella has also publicly acknowledged due to her daughters prominent absences while entering in eating disorder rehabs. Allegra owns about half of the Versace empire, which she inherited on her 18th birthday. (Getty photo)

Silvia Fendi is head of accessories for the Italian label, as well as designer of the Mens line. She represents the third generation of the Fendi family. Both the Fendi Spy bag in 2005and the B Fendi in 2006 was some of her greatest accomplishments to date. (Getty photo)

Pictured here in a recent W Magazine spread, the fourth-generation Fendi sisters are growing up fast. Delfina (left) had a child at only 19-years-old. Now at age 24, she is already successful jewelry designer. Delfina's half-sister Leonetta is only 16-years-old. But the youngster- who shares a special bond with Kate Moss- is already BFF's with the fashion elite.
Want more? Be sure to check out HuffPost Style on Twitter, Facebook, Tumblr and Pinterest.