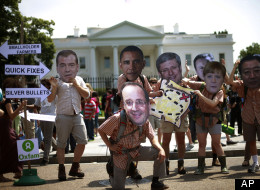 HuffPost Impact readers and bloggers have been leading the conversation on issues related to poverty, hunger and global health leading up to the G8 summit.
President Barack Obama will host the gathering of the top eight world leaders at the G8 Summit May 18-19 in the small town of Thurmont, Md. These leaders will be discussing a wide range of issues, and our community is making sure its voice is heard.
From ONE calling on G8 leaders to push forward an anti-corruption agenda, to Save the Children providing concrete ways to fight chronic malnutrition, more than 20 HuffPost Impact bloggers have shared their thoughts over the past week.
And our readers are chiming in from webcams in their offices and homes. You've been sharing videos this week, telling us what issues should be on the table when world leaders gather in Maryland.
What do you think G8 leaders should focus on? Tell us in the comments below or contribute a 10-second video message here.
Read more on G8 here.
Check out some of the top blogs from leading nongovernmental organizations calling attention to a range of issues that should be discussed at G8 in the slideshow below.
SLIDESHOW:
We're at risk of failing the poorest nations if we don't step up our efforts to address a health concern that's connected to the success of nearly every important socio-economic development milestone. I'm talking about neglected tropical diseases. --Neeraj Mistry, M.D.Managing Director, Global Network for Neglected Tropical Diseases Read the whole post.

As food prices rise yet again, the barriers to achieving food security and poverty reduction remain more daunting than ever. Supporting country-led initiatives is one of the most proven ways to achieve sustainable development and progress against food insecurity, and I encourage the G8 leaders to remember this as they head to Camp David later this month. --Ben Leo, Global Policy Director, ONE Read the whole post.

A critical mass is building behind a tax that could generate billions in much needed revenue while curbing the worst excesses of casino banking. It may be a small and simple idea, but it could make a big difference to the U.S. and the world. --Liz Ryan Murray, Spokesperson, Robin Hood Tax Campaign Read the whole post.

Chronically malnourished children need the G8 leaders' help. Globally, malnutrition costs developing countries some $20 to $30 billion per year. Acting now not only saves lives, but saves dollars as well. Simple investments -- teaching mothers about exclusive breastfeeding and hygiene education -- don't cost much and are proven to reduce chronic malnutrition. --Lane Hartill, Director of Emergency Media and Communications, Save the Children Read the whole blog.

Three years ago at the G8 Summit in L'Aquila, Italy, the world's richest countries made a promise: if poor countries came up with good plans to help poor farmers grow more and earn more, rich countries would help make it happen. Donor countries, including the United States, have helped, but it's been too little and too late. --Mahamadou Issoufou, Executive Director, The Federation of Unions of Farmers Groups Read the whole post.