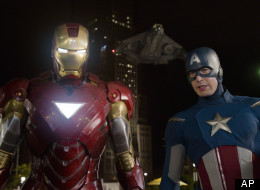 "Battleship" has been sunk by "The Avengers."
On Friday night, the adaptation of the once-popular board game earned just over $9 million at the box office, well behind the $15.3 million grossed by "Marvel's The Avengers." That slow start means the costly "Battleship" will finish in a distant second when final numbers are tallied on Sunday. According to Deadline.com's Nikki Finke, "Battleship" could cruise to around $26 million for the three-day frame, a disappointment considering the film's reported $200 million price tag.
"Battleship" is the second big-budget film starring Taylor Kitsch to stumble out of the gate in the last two months; in March, the "Friday Night Lights" star opened "John Carter" to underwhelming returns as well. That film -- which cost at least $250 million -- grossed $30 million during its first weekend on its way toward only $77 million in North America. Internationally, "John Carter" earned just over $200 million.
"Battleship" is already ahead of that pace overseas (it has earned over $215 million in international territories since the beginning of the month), but its low returns in the U.S. could hurt Universal. The studio started the year strong with "The Lorax," "Contraband" and "Safe House," but saw "The Five-Year Engagement" stumble in April before "Battleship" washed ashore this weekend.
Like "Battleship," the weekend's other new releases faltered. "The Dictator" and "What To Expect When Expecting" will likely finish third and fourth, with $16 and $12 million, respectively.
Meanwhile, "The Avengers" continues to rake in cash money. It's the fastest film to ever cross $400 million in North American ticket sales (14 days), and it will surpass both "The Lion King" and "Pirates of the Caribbean: Dead Man's Chest" at some point on Saturday to become the highest grossing domestic Disney release ever. Overall, "The Avengers" is closing in on $1.1 billion in global returns.
[via Deadline.com]
RELATED: The Week In Ouch
Judging from the reviews, "What To Expect When You're Expecting" is basically "New Years Eve" with dirty diapers and baby bjorns, the reviews would have. With a 23 percent rating on Rotten Tomatoes, this star-studded adaptation of the popular pregnancy guide failed to soothe the cranky critics. The Los Angeles Times whinged that the "disjointed" film is "bloated by confusion." With so many characters and storylines, The Times found it hard to keep up. "The filmmakers should have considered bringing on someone from ESPN's 'SportsCenter' to give us the play by play."

The latest doc from "Super Size Me" stunt artist Morgan Spurlock gets a limited release this weekend, and while some were intrigued by the concept, at least one critic lost patience with all those celebrities chatting about male grooming habits. "This complete waste of 82 minutes finds documentarian Morgan Spurlock taking a look at current trends in men's grooming, featuring interviews with a random sampling of people who have no idea what they're talking about," writes Mick LaSalle of The San Francisco Chronicle. "But they're famous."

Progressive house music producer Joel ZImmerman (better known as Deadmau5) was not a fan of 'Jersey Shore' nice-guy Pauly D's new DJ sizzle reel, and decided to make his feelings known on Twitter. "I didn't really enjoy it," Deadmau5 tweeted of the video. "It looked like it cost about $150 to make, and nothing really creative about it." The two then got into a bit of a Twitter feud, though neither really seemed to be upset.

"Hysteria" is a period comedy about the invention of the vibrator, but most critics aren't buzzing with enthusiasm. (GROAN, amirite?) "Boy, people sure were dumb in the 1880s, huh?" writes Noel Murray of the AV Club. "That's the major takeaway from Hysteria, a broad period comedy that squanders a fascinating subject--the invention of the vibrator -- by refusing to see it from anything other than a modern, winking perspective."

HuffPost Entertainment Editor Kia Makarechi admitted that he thoroughly enjoyed watching the "Battleship," but later realized that there's a problem with the continued militarization of our summer blockbusters. Families taking children to summer blockbuster after intergalactic war thriller would do well to end the evening with a conversation about the sacrifices incumbent in such fantastically bright explosions," he wrote. At least one critic, however, complained that it wasn't bad enough. "Negative reviews are relatively easy to write, and often great fun to read," Christopher Orr of the Atlantic pointed out. (Don't we know it!) Alas, he concludes, "Battleship is substantially less awful than it could have been."

Sacha Baron Cohen's "The Dictator" may have a positive rating on Rotten Tomatoes, but not all critics were charmed. "Most of 'The Dictator' had me neither laughing nor shocked, but just staring at the screen in anxious is-that-all-there-is? silence," wrote Dana Stevens for Slate.com. "The movie has a deadening sluggishness at its center, a sense of exhausted shtick on Baron Cohen's part and missed opportunities for the supporting cast. Anna Faris, Ben Kingsley, and John C. Reilly, all gifted comic actors, do little more than drift in and out to set up punch lines." Audiences seem to be siding with Stevens, as "The Dictator" is tracking to finish a distant fourth at the box office this weekend.

Norah Jones may have taken home eight Grammy Awards for her debut album, Come Away With Me, but according to the AVClub, her "overall pleasantness" doesn't "make her actual music any more energizing." Her latest album, Little Broken Hearts, is classic Jones: It goes down smoothly, but "it never feels like something she burns to do."