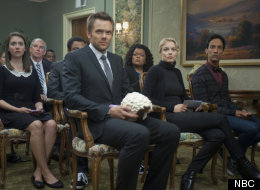 When it was reported last week that Dan Harmon might not have his contract renewed for the fourth season of "Community," star Joel McHale said he was "literally praying" his showrunner would return.
"Dan's the creator of the show, so to lose his voice would be pretty crazy," McHale told TVLine.com. "He gave me the role of a lifetime, so it would be a very weird scenario [to continue] without him."
Season four just got weird. Late Friday night, NBC and Sony -- the studio that produces "Community" -- announced that Harmon would not be back next season. On his blog, Harmon said he had been "fired."
In reaction to this news, McHale, and his "Community" co-stars Alison Brie, Gillian Jacobs, Yvette Nicole Brown and Jim Rash, took to their Twitter accounts on Saturday afternoon to express support for Harmon.
@joelmchale

Joel McHale
.@danharmon you are a true genius. You gave me the role of a lifetime & three of the best years of my life. Buying
#Prototype2
today.
@yvettenbrown

yvette nicole brown
.@danharmon So many thoughts. So little room. I guess, "I heart you" and "Thank you to INFINITY" will have to do for now.
#Community
#Love
@alisonbrie

Alison Brie
I'm in creative debt to
@danharmon
who let us ride the coattails of his integrity, pushing boundaries & making f'ing awesome tv. Thanks Dan.
@GillianJacobs

Gillian Jacobs
I wholeheartedly agree with
@joelmchale
. I'm so grateful to
@danharmon
for my role, the show and everything else. Thank you, Dan. Thank you.
@RashisTVUgly

Jim Rash
I owe the last 3 amazing years 2 Dan Harmon's brain. Bless ur dementedly awesome brain,
@danharmon
. U r
#Community
.
Season four of "Community" is set to premiere in the fall on Friday nights at NBC. The cast is expected to return mostly intact, though whether that includes Chevy Chase -- who famously and publicly feuded with Harmon over his role on the series -- remains to be seen.
Despite the fact that NBC Entertainment president Robert Greenblatt said last week that Harmon would likely have a role on "Community" going forward, don't necessarily expect that to be the case.
"If I actually chose to go to the office, I wouldn't have any power there," Harmon wrote on his personal Tumblr page. "Nobody would have to do anything I said, ever. I would be 'offering' thoughts on other people's scripts, not allowed to rewrite them, not allowed to ask anyone else to rewrite them, not allowed to say whether a single joke was funny or go near the edit bay, etc."
"Community" ended its third season on Thursday with a three-episode season finale.
EARLIER: Dan Harmon: "I Got Fired"